Treasure Ireland Review: Searching for Gold
Are you in search of gold? Read our Treasure Ireland review.

Let's set sail and embark on a journey in Treasure Ireland. This slot game only features 3 reels, but fret not since its multiple special features and visually enticing layout makes this game one of the best slots to play with your crew of Irish pirates.
Microgaming's Treasure Ireland carries a high payout percentage amounting to 96.50% which gives you a fair chance of winning if you decide to play this slot game for long hours. There's only a single payline available and one coin for each spin can be activated, the coin values start at .10 and then can be increased to a maximum of 10.00.
Know Your Symbols
Standard Reel Symbols
Treasure Ireland's symbols are a combination of Pirate/Irish characters which are pretty interesting icons. The top-paying would be Captain Leprechaun and the Clover which is the lowest paying. Other standard symbols are Treasure Chest, Parrot, 7, Skull and Crossbones, Ship, and Bar.
Scatter and Bonus Symbols
This slot doesn't have bonus symbols since this is a fruit slot machine. The scatter symbols are map symbols that you can spin into view 3 to launch on the bonus board.
Wild Symbols
Treasure Ireland doesn't include wild symbols.
The Gameplay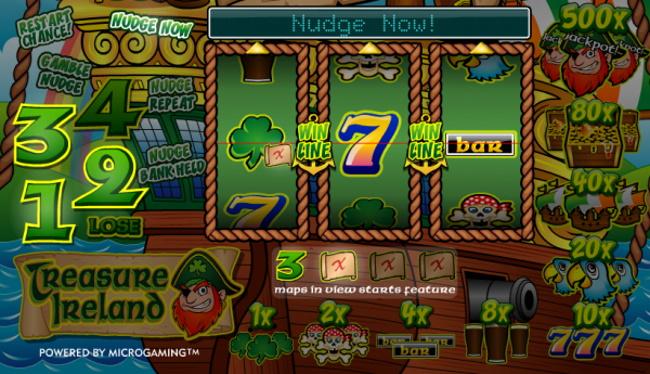 Treasure Ireland is a great slot game that features 3 reels with one payline and 9 different winning combinations. The biggest price is a fixed jackpot which is awarded when you get 3 Irish Pirate jackpot symbols. The second-highest jackpot is worth 90 times your wager.
In order to score a jackpot payout, you need to have 3 Captain Leprechaun on the reels so you can trigger the 500x bet jackpot. Spin 3 of them into position on your win line to score a big jackpot.
As for free spins, Microgaming's Fruit Machine doesn't have them. While there are no free spins, this slot compensates for that with a large number of bonus games and features that will spice up your gaming experience. Bonus games are in form of board games which consists of 14 positions. Every position has Cash Shots, Feature Shots, Win Spin Shots, a Question Mark, a Spud Potato, or a bonus. When you land one of the host's positions then you'll get a set of a number of shots on the appropriate column, which you can collect after any given shot and bonus game.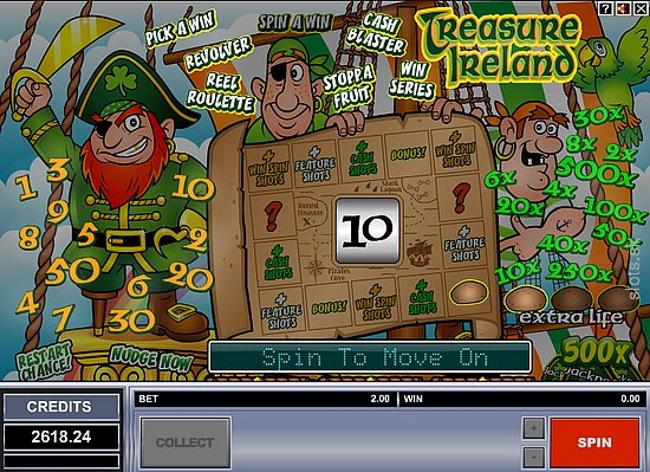 The bonus game on Treasure Ireland is a simple board game consisting of 14 positions. Each position has Win Spin Shots, Cash Shots, Feature Shots, a Question Mark, Bonus or a Spud (potato). Should you land on one of the Shots positions, you'll be awarded a set number of shots of the applicable column, you can collect after any given shot and end the bonus game. If you land on one of the Question Mark positions, you'll have to stop the text by hitting start. Get 3 map symbols on the active payline to trigger a secret bonus round called The Treasure Map Bonus.
The Verdict
Treasure Ireland is one of those classic yet old reliable fruit machines. The great thing about this slot is the graphics are entertaining and the gameplay gives you a fair chance of winning. However, if you like receiving free spins and more progressive jackpots, this game isn't for you. Don't expect big wins from a fruit machine like this; nevertheless, Treasure Ireland is an adventure, especially for slot gaming newbies.