Treasure Ireland Review: Searching For Gold

Let's set sail and embark on a journey in Treasure Ireland. This slot game only features 3 reels, but fret not since its multiple special features and visually enticing layout makes this game one of the best slots to play with your crew of Irish pirates.
Table of Contents
Microgaming's Treasure Ireland carries a high payout percentage amounting to 96.50% which gives you a fair chance of winning if you decide to play this slot game for long hours. There's only a single payline available and one coin for each spin can be activated, the coin values start at .10 and then can be increased to a maximum of 10.00.
A General Rundown Of The Slot
Treasure Ireland utilizes cartoon graphics as well as a classic slot game setup to organize the stage and invite players into the game's inimitable universe.
The game contains a picturesque background of a mesmerizing ship sailing toward the horizon on choppy seas. The vessel is quite intensely embellished with gold that looks quite brand new as well as blingy. The game screen in itself is immensely quite crowded along with the reel set, the command bar, paytable, and many other blinking displays.
Treasure Ireland offers the vibe of an old-school pub slot machine with quite an enthralling theme as well as multiple betting options to pick from.
Know Your Symbols
Standard Reel Symbols
Treasure Ireland's symbols are a combination of Pirate/Irish characters which are pretty exciting icons. The top-paying would be Captain Leprechaun and the Clover which is the lowest paying. Other standard symbols are Treasure Chest, Parrot, 7, Skull and Crossbones, Ship, and Bar.
Scatter and Bonus Symbols
This slot doesn't have bonus symbols since this is a fruit slot machine. The scatter symbols are map symbols that you can spin into view 3 to launch on the bonus board.
Wild Symbols
Treasure Ireland doesn't include wild symbols.
Other symbols of the game
The payroll table of Treasure Ireland comprises 9 different symbols mused by the two different universes of the game i.e., pirates as well as Irish culture.
The most ordinary and common symbols of the game are the lucky clovers, bar signs, Guinness pints, and pirate skulls. The most amount of victories you can score with them is just about 8 times the size of your bet, however, on the contrary, you will be offered multiple opportunities to do so.
Pirates, sevens, treasure chests, ships, and parrots make up the second half of the symbol menu. You can also rack up to an x500 cash prize which is all due to the pirate combination, hence stay attentive and do not let those priceless icons slip away at any time.
How to Play Treasure Ireland Slot Online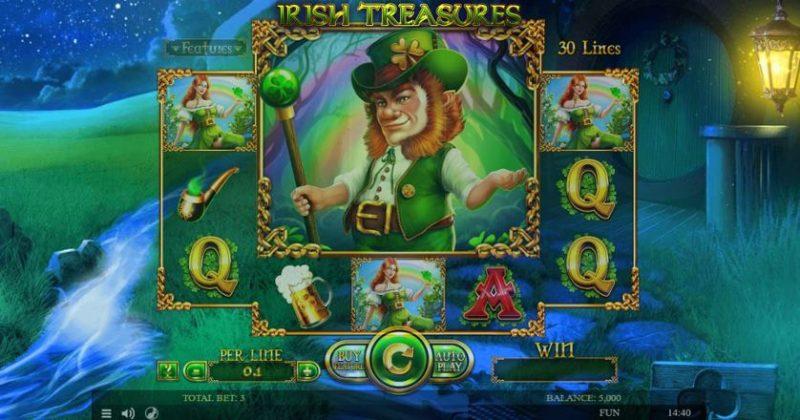 Treasure Ireland is considered a three-reel, single-payline poker machine. One of the best places to experience Treasure Ireland is the Vegas Palms casino, which provides Treasure Ireland as well as hundreds of multiple Microgaming pokies to enjoy. Since this is a single-line machine, the wagering options are quite simple. You can only play a single coin on every spin, even though the coin value can vary anywhere from $0.10 to $10, declaring the machine quite compatible with players of multiple budgets.
The main purpose of Treasure Island is quite simple. Land three of the same symbol and cross the game's only payline available termed the win line. There are nine multiple symbols that can deliver prizes, ranging from a lucky clover that can earn you back anything you decide to bet on the spin.
Some other prizes include bars, beers, pirate skulls and win other different small prizes, meanwhile sevens, Irish ships, and parrots deliver even more money. The two largest prize winners are considered to be treasure chests, which can earn you a decent prize of 80x your starting bet, and the pirate leprechauns return only the jackpot prize of 500 coins.
There is also a combination of different themes here. There are a lot of green and multiple Irish symbols too. Although the game has been built around multiple Irish themes and influences, the creators have added an accessory Treasure Island theme as a pirate theme. It is definitely worthwhile to experience this game and offers this slot a lot more layers to the story than a general Ireland game.
Bonus features
Treasure Ireland would be quite incomplete with the truancy of bonus features, and you can easily trigger it which is completely owed to the map symbol.
As this is a scatter symbol, it means that you need to land just 3 of them anywhere on the screen to initiate the bonus game. Following this, the reels will then vanish and you will be shifted to a completely new location to begin playing.
The bonus game that is under process can reward either additional cash prizes (of around x500 as well), additional spins, nudges, and permission to multiple mini-games. Rotate the wheel and pave your own way along the board to collect as many special features as you can and hit some extra rewards along the journey.
The Gameplay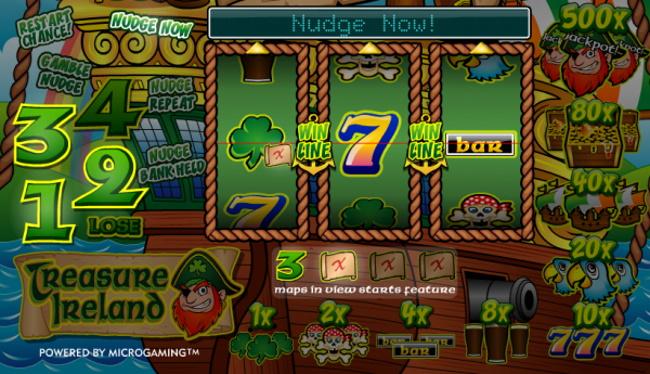 Treasure Ireland is a great slot game that features 3 reels with one payline and 9 different winning combinations. The biggest price is a fixed jackpot which is awarded when you get 3 Irish Pirate jackpot symbols. The second-highest jackpot is worth 90 times your wager.
In order to score a jackpot payout, you need to have 3 Captain Leprechaun on the reels so you can trigger the 500x bet jackpot. Spin 3 of them into position on your win line to score a big jackpot.
As for free spins, Microgaming's Fruit Machine doesn't have them. While there are no free spins, this slot compensates for that with a large number of bonus games and features that will spice up your gaming experience. Bonus games are in form of board games which consists of 14 positions. Every position has Cash Shots, Feature Shots, Win Spin Shots, a Question Mark, a Spud Potato, or a bonus. When you land one of the host's positions then you'll get a set of a number of shots on the appropriate column, which you can collect after any given shot and bonus game.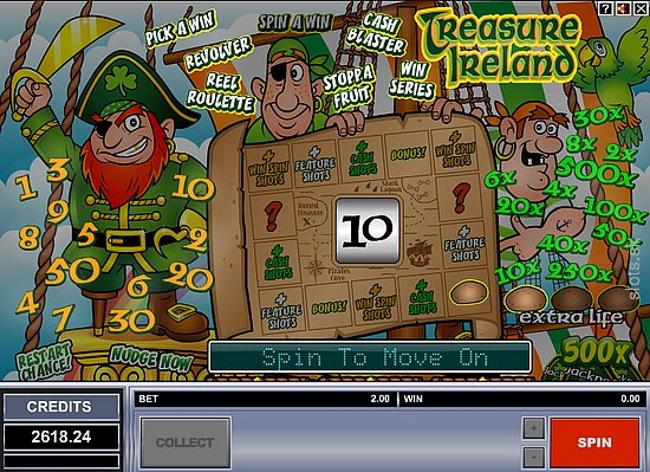 The bonus game on Treasure Ireland is a simple board game consisting of 14 positions. Each position has Win Spin Shots, Cash Shots, Feature Shots, a Question Mark, a Bonus or a Spud (potato). Should you land on one of the Shots positions, you'll be awarded a set number of shots of the applicable column, which you can collect after any given shot and end the bonus game. If you land on one of the Question Mark positions, you'll have to stop the text by hitting start. Get 3 map symbols on the active payline to trigger a secret bonus round called The Treasure Map Bonus.
Treasure Ireland can blend two different themes together and build something unique and revitalizing. The rewards are much more than the amazing bonus feature is quite convenient to play and becomes straightforward.
You should certainly give Treasure Ireland a try and look for yourself if you can journey the pirates all around the world and accumulate all kinds of treasures along the way.
The Verdict
Treasure Ireland is one of those classic yet old reliable fruit machines. The great thing about this slot is the graphics are entertaining and the gameplay gives you a fair chance of winning. However, this game isn't for you if you like receiving free spins and more progressive jackpots. Don't expect big wins from a fruit machine like this; nevertheless, Treasure Ireland is an adventure, especially for slot gaming newbies.