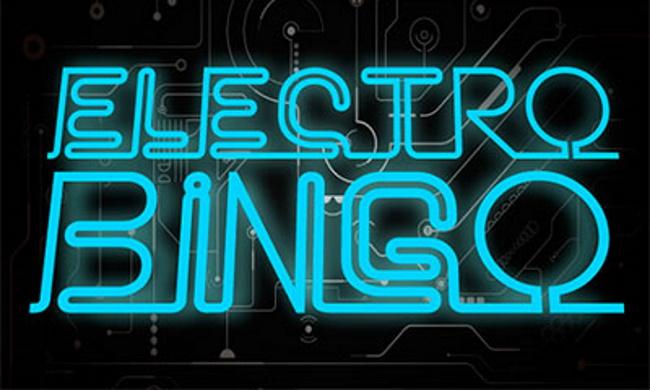 If you dreamed of playing an Electro Bingo slot game and a slot machine together, the Electro Bingo slot by Microgaming is the best fit. With over 150 titles in its collection, Microgaming's specialty is machines made for desktop and mobile platforms. It means they are using HTML5 technology and support touch-based controls. You can play Bingo free slot using your PC or mobile devices completely for free. No download or registration is needed.
Table of Contents
Pros and Cons:
Pros
Unique gameplay
Visually appealing with stunning graphics
Variety of game modes to choose from
Interactive features such as power-ups
Convenient accessibility through online platforms
Cons:
Reliance on luck and random number generation
Potential for addiction, requiring responsible gambling habits
Possibility of repetitive gameplay over time
Limited social interaction compared to traditional bingo
The learning curve for newcomers to understand the game rules and features
Electro bingo slot machine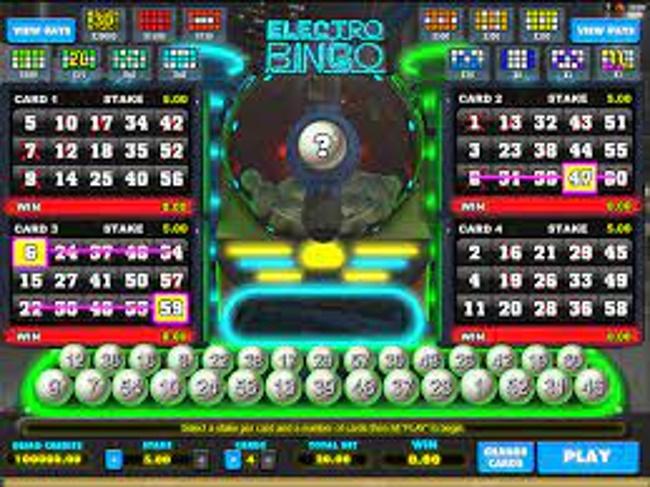 This Electro Bingo slot is the 5-reel, 25-pay-line version, which also includes 3 special figures. The rule set is quite easy, so it's also suited for beginners. If you are looking for simple yet entertaining and rewarding gambling, take a look at this exciting and low-risk machine.
The main controls are located at the bottom. The most important ones are:
Autoplay: It supports automatic spins of the reels, up to 1.000 spins.
Total Bet: This shows the cost per spin.
Coins / Lines: You can adjust the bet and the number of pay lines from here. Playing with all of the lines is recommended.
Balance: This shows your current balance. You can play Bingo free slot with a complimentary balance of 500 coins.
View Payout: This opens the paytable, where you can see the rules and payouts in detail.
Spin: Self-explanatory. Hit this one to spin the reels.
Options: This one is located at the top right side of the interface. You can turn on/off the symbol animations, sound effects, and music from here. We recommend keeping the music on – it is a nice piano theme and sounds very relaxing.
You can also play on full screen by clicking the same-named button located at the bottom-right side of the screen.
The free online electro Bingo slot machine has 5 reels and 25 pay lines. Once you hit the "spin" button, the reels will start to spin. If a winning combination lands on any of these pay lines when they stop, you will be paid as per the paytable.
Read: Classic Dragon Slots Online
The quick fact of Electro bingo slot machine
Unique gameplay with interactive elements
Vibrant visuals and dynamic animations
Multiple game modes for a variety
Power-ups to enhance gameplay
Auto-daub and manual-daub options
Progressive jackpots (in some versions)
Customizable settings for personalization
Convenient online accessibility
Social features for interaction
Bonuses and rewards for added excitement.
The Gameplay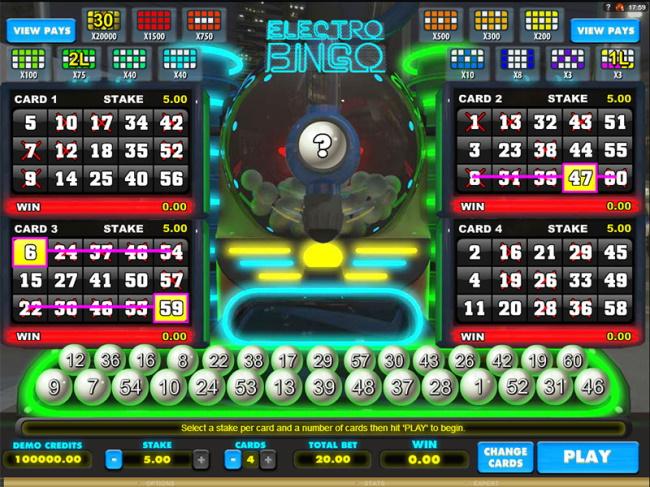 You will find real lines, which connect both sides of the reels together in this Electro Bingo. You can see what they look like from the "view payout" page. It is vital to land a minimum of 2 identical symbols together to form a winning combination. Landing 3 or more will be better; because the more the number of figures, the greater the rewards. Prize amounts differ because each icon pays a different amount.
RTP
The combinations are calculated from left to right. The only exception is the scatter; it pays on any position and does not have to appear on a line to award you. The RTP value, which represents the theoretically expected payback, is 97.26%. Without giving too much technical detail, 97.26% RTP value will give back 97.26 of each 100 dollars you spent in the long run.
Players usually prefer games with 95% RTP and over. The bingo slot game offers a very good value so you can expect higher winning odds. Your maximum loss will only be 2.74$ in the long run. The gamble won't make you rich with only one spin but will give you constant prizes regularly in small quantities.
Symbol and bonus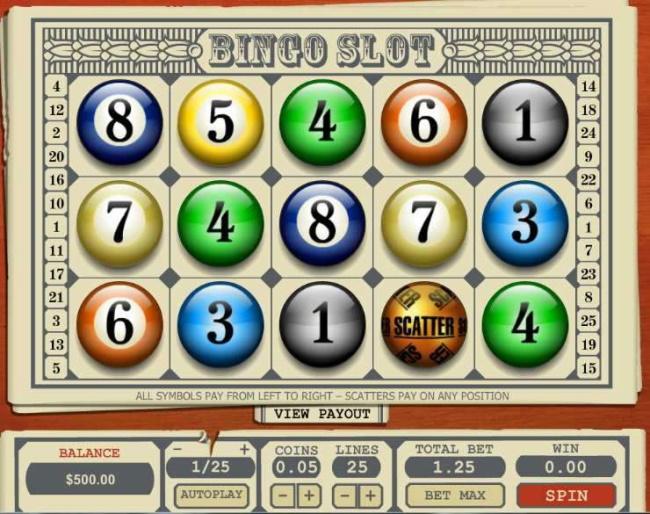 There are 8 main signs in the free online Bingo slot machine. These are shown with numbers, from 1 to 8. Each one has a different payout, and they all need to land in a different number to give an award.
For example, you need at least three "number 2" for a prize. On the other hand, "number 7" pays even with only 2. The most valued one is "number 8," which pays 3.000 coins for receiving 5 of them. Take a look at the paytable to see all of the symbols and their payouts.
Scatter: An orange-colored ball counts as the scatter. As we mentioned above, it pays for any position and up to 50 coins. It also activates a bonus round, which we will explain below.
Wild: It can be used to complete any combination and substitute all other symbols. The only two exceptions are the scatter and extra symbols. The wild looks like a purple ball and doesn't offer any separate payout.
Bonus: The bonus symbol is shown with a yellow-colored ball. It acts as the jackpot icon and awards up to 7.680 coins if you manage to hit 5 of them at the same time.
There is only one bonus round in the Electro Bingo slot game, and it is the free spins round. To activate it, you need to receive 3 or more scatter symbols at the same time anywhere on the reels.
The round will automatically start and award you 50 free spins. During this feature, winnings are multiplied by the bet and added to the pay line wins. Free games round can be re-triggered anytime during the main game. You can also hit bonus symbols and win the Jackpot during the feature.
Jackpot prize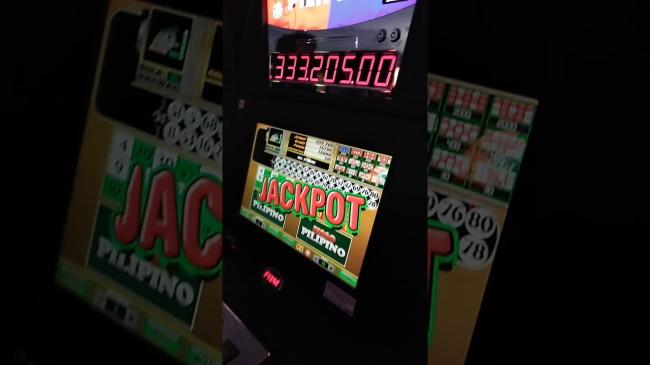 The maximum prize (jackpot) you can win is 7.680 coins. To achieve this, you need to land a certain number of bonus symbols on a pay line. Different numbers award gamesters different prizes:
Winning the Bingo slot machine game jackpot is based on your luck. It is necessary to play with the maximum bet amount to be able to win the Jackpot.
Betting Range
As for the betting range, you have multiple options. The lowest bet you can place is 0.01 coin per line. If you prefer to play all 25 lines available, the minimum total bet becomes 0.25 coins. Likewise, the highest wager per line is 5.00, and the maximum total stake is 125.00 coins. We recommend starting with the lowest stake amount possible and slowly raising it once you start winning.
Tips to play Bingo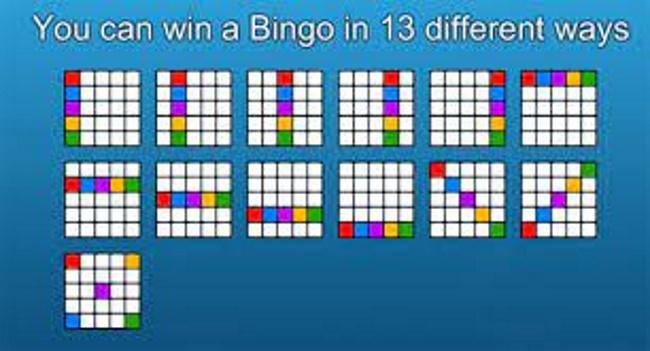 There aren't many tips and tricks you will find for the Bingo slot machine game as it requires only luck. However, keep these in mind while playing:
The paytable doesn't change itself according to the bet amounts. In other words, you can win up to 3.000 coins even when you play with 0.25 coins per spin. However, if you want to win the jackpot prize too, placing the maximum bet available (125 coins) is mandatory.
It is possible to change the number of pay lines and play only, for example, with one line. However, we don't recommend this. Playing with fewer lines will lower the cost of the total bet along with your overall winning chances. Use all of the pay lines available.
You can play the demo version completely for free and for as long as you want. Before moving on to the real money version, practice as more as possible to get a better understanding of the Bingo slot game and its rules.
You can start playing with real money any time you want. Online casinos may offer extra bonuses and higher payouts. Do your research beforehand (for example, a casino may offer 100 free spins instead of the default 50).
No registration is needed, so you can start playing literally in seconds. This is an advantage, and you are not forced to share your personal information.
FAQ
1. What is Electro Bingo?
Electro Bingo is a modern twist on the classic game of bingo. It combines the traditional game with elements of electronic dance music (EDM) and high-tech graphics to create a unique and engaging gaming experience. Players can enjoy the game online or in person at select casinos and bingo halls.
2. How do I play Electro Bingo?
The gameplay of Electro Bingo is similar to traditional bingo. Players receive a card with numbers, and they must match the numbers called by the announcer or displayed on a screen. However, in Electro Bingo, the numbers are announced in a different way. Instead of a caller, the numbers are announced with electronic dance music and flashy graphics.
To start playing, players must purchase a bingo card. The cost of the card may vary depending on the game and location. Once the game begins, players must mark off the numbers on their cards as they are called. The first player to mark off all their numbers and call out "Bingo!" wins the game.
3. What are the rules of Electro Bingo?
The rules of Electro Bingo are similar to traditional bingo. Players must mark off the numbers on their cards as they are called. In some games, players may have to mark off specific patterns or shapes on their cards to win.
The game can be played with different numbers of cards, depending on the player's preference. However, players must pay for each card they play, and the more cards they have, the greater their chances of winning.
4. What are the prizes in Electro Bingo?
The prizes in Electro Bingo can vary depending on the game and location. Some games may offer cash prizes, while others may offer electronic gadgets or other prizes. The price may also depend on the number of players and the cost of the bingo card.
5. What are the benefits of playing Electro Bingo?
Playing Electro Bingo can be a fun and exciting way to spend time with friends and family. It can also be a great way to socialize with other players and meet new people.
In addition, playing Electro Bingo can help improve cognitive function and memory. The game requires players to concentrate and pay attention to the numbers called, which can help improve mental agility.
6. Is Electro Bingo available online?
Yes, Electro Bingo is available online at select casinos and gaming sites. Players can enjoy the game from the comfort of their own homes and play at their own pace. Online versions of the game may also offer additional features and bonuses.
7. Is Electro Bingo legal?
Yes, Electro Bingo is legal in most countries where gambling is permitted. However, players should check their local laws and regulations to ensure that playing the game is legal in their jurisdiction.
Synopsis
Overall, this is a basic game with classic features of this category. If you are looking for life-changing prizes and more than one bonus round, it is better to look elsewhere. However, if you're looking for a simple yet fun gamble, give it a try!