3 Card Poker Review: A Digitally-Enhanced Classic Game
It's a classic game of 3 Card Poker with an interactive approach. Check out our review.
It's a no-brainer that the classic game of 3 Card Poker has arrived online. 3 Card Poker is a popular and favourite game in land-based casinos, which is why Microgaming developed and released a mobile version for poker fans. After its launch, the classic game's online version was a huge success and has been a big hit with poker enthusiasts. Fans are enjoying this simple yet fast-paced poker game on their mobile.
So how do you play 3 Card Poker? For poker newbies, it's a basic and straightforward game of poker that is one of the best choices for online gambling beginners. 3 Card Poker has only a handful of rules you need to follow, how you approach the game with a winning vibe depends on you. You'll be able to familiarise yourself with 3 Card Poker in an instant. The interface of the online version is simple and convenient to understand. Even poker newbies will be able to understand the basic rules in order to make bets.
The Gameplay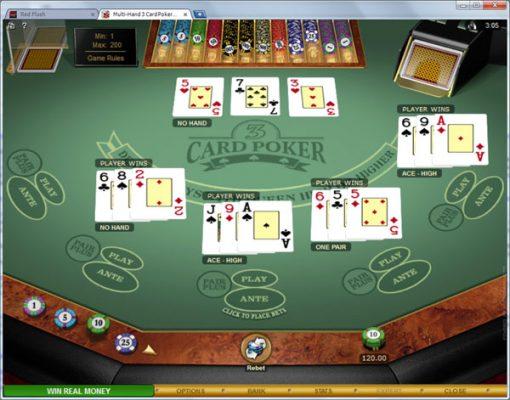 3 Card Poker's interface is enhanced by realistic and colourful graphics, and the game's audio effects also make you feel that you're playing the game in a real casino. A melody is played whenever you win. Pointing the mouse cursor at a sign located on the table in the upper left corner will show you a brief rundown of the rules.
Click the small button with a percent sign below for the current statistics to appear. As mentioned earlier, poker's newbie-friendly interface makes this game very simple to play. Buttons are used to control the game, namely Clear Bets (remove all bets from the field), Fold, Deal and Play (add the Play wager).
The interface of 3 Card Poker is simple, convenient and intuitively understandable. If you are familiar with the rules of the game, you will easily understand how to make bets. The following buttons are used to control the game: Clear Bets (remove all bets from the field); Fold, Deal and Play (add the Play wager). Bet size can be adjusted by clicking the Plus and minus which you can find under the image of chips. If you wish to find details about winnings and bets, it's shown under Play, Pair Plus, Ante, and Win.
3 Card video poker hands rankings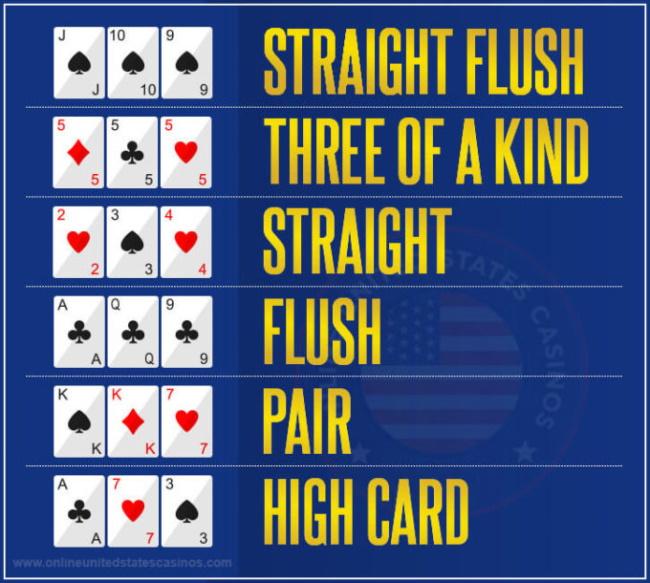 The hands are rated starting from the highest to the lowest:
Straight Flush – three cards of the same suit in sequence. For example 6-7-8 of Spades
Three of a Kind – Three cards of equal rank
Straight – three cards in sequence of mixed suits
Flush – three cards of the same suit
Pair – two cards of equal rank
High Card – the highest card in the player's hand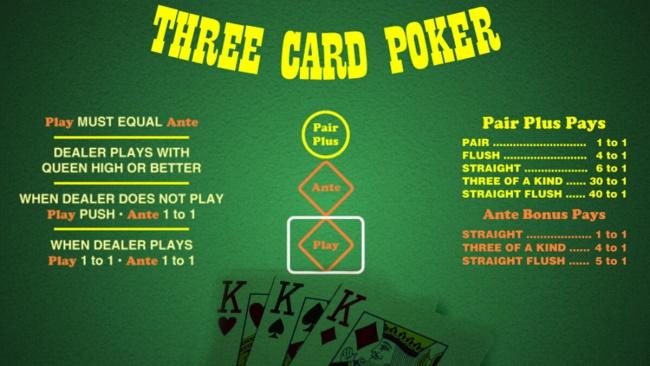 The best part about this Bonus is that it doesn't need an additional wager to be acquired. If a player has a Straight, Three-of-a-Kind or Straight Flush, they will be paid a Bonus regardless of whether they beat the Dealer or not. A Bonus payout is issued based on the paytable displayed. With a Straight Flush, players will be paid 5-1 or 4-1. Three-of-a-Kind pays out 4-1 or 3-1 and a Straight only pays out 1-1 for the placed Ante bet.
3 Card Video poker pair plus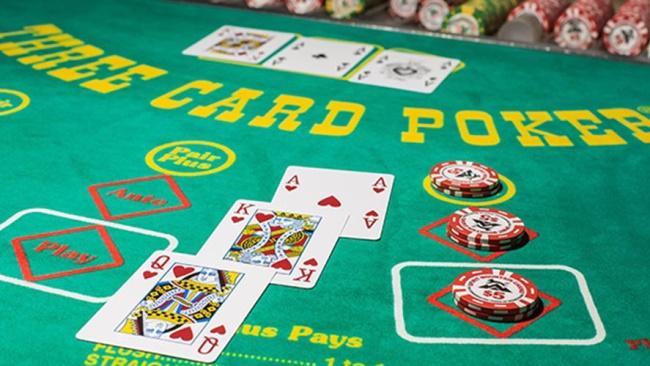 This wager is considered based on whether the player's three-card hand has a Pair or higher. If a player holds a hand with a pair or better, they win. However, if the player does not have a pair, they will automatically lose. With the Pair Plus wager, the payout is determined by the paytable.
A game of skill, maths and a bit of luck, 3 Card Video Poker is an impressive game that's made for Poker lovers. It's a game that simply challenges your thinking and Poker experience – a classic game that never gets old. Made by Microgaming TM software, it's packed with all the entertainment value needed for any Poker game. With a cool interface and spectacular design elements – 3 Card Video Poker is ideal for Poker fans and seasoned players. Take a chance with "The Ante and Play" or "Pair Plus" – it's about discovering the game that's made for you and holding the best hand.
Synopsis
A classic game of poker is an old reliable for both seasoned gamblers and newbies. The simple rules of 3 Card Poker make it likeable along with its fresh interactive approach to its gameplay. While there are no bonus points for this game, 3 Card Poker gives you a Pairs Plus bet at 2.3% and a 3.4% on the Ante which gives you frequent wins as you enjoy this game. 3 Card Poker is one of our favourite online poker games and you should give it a try as well.