Power Pokers are a relatively modern invention, a merger between traditional video pokers and slot machines. A Power Poker game is a contest between you and the machine. The objective is to finish the game with the strongest hands possible. During a game of Power Poker, the dealer will deal you four hands of five cards each.
Table of Contents
Deuces and Joker Power Poker is different from the standard Deuces and Joker video poker, as you play four identical hands of cards. At the beginning of each game, only the first hand is shown to you, while the other three hands remain face down. The game then progresses like standard video poker. When you choose to hold a card the identical card is revealed in the other three hands.
If you choose to un-hold a card the three identical cards are turned face down. When you have chosen the cards you want to keep, click the Draw button.
Gameplay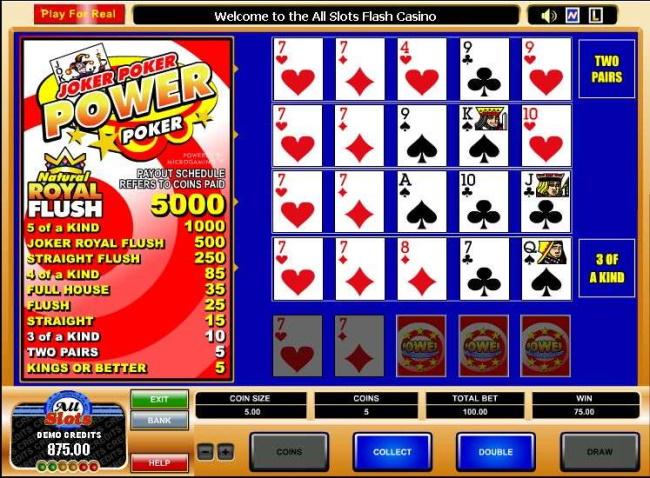 You will deal with new cards in place of the cards that you did not hold. You will reveal the other hands then. Deuces Joker Power Poker and Joker Power Poker refer to the fact that the Deuces and the Joker in the pack are wild cards. So, it's like having five Jokers in one pack! Whenever you get a Joker or one or more Deuces in your final hand, the computer will automatically assign a suit and value to it. This will give you the highest possible payout for the cards that you are holding.
The game, Deuces Joker Power Poker is inspired by the traditional Deuces and Joker style but it also comes with its own unique take, which we will explore later. The betting limits in this game will be able to satisfy any gambler, including the players who wager pennies and the high rollers who stake hundreds.
Fun and Engaging Game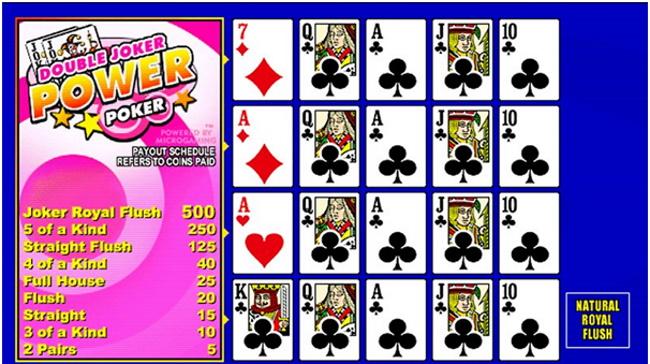 Playing Deuces Joker Power Poker can be a fun and engaging activity, with the added benefit of winning a good sum of money. Like any other video poker game, this one too rewards skill and strategic decisions. The graphics of the game are nothing too fancy, but then again video poker rarely is played for its visual appeal. Instead, the developers have focused on usability and functionality, making the user interface as accessible as possible.
As a result, you will have no trouble understanding what is happening on screen or what you are supposed to do. The hands are clearly visible, as are the bets and other settings. If at any point you feel that you do not understand something you can always refer to the help menu, where you will find all relevant information about the game.
| Hand | Payout |
| --- | --- |
| 3 of a Kind | 5 |
| Straight | 10 |
| Flush | 15 |
| Full House | 15 |
| 4 of a Kind | 15 |
| Straight Flush | 30 |
| 5 of a Kind | 45 |
| Wild Royal Flush | 60 |
| 4 Deuces | 125 |
| Natural Royal Flush | 4000 |
| 4 Deuces and a Joker | 10000 |
Fun and Engaging Game- Deuces Joker Power Poker
Specific Features – Deuces Joker Power Poker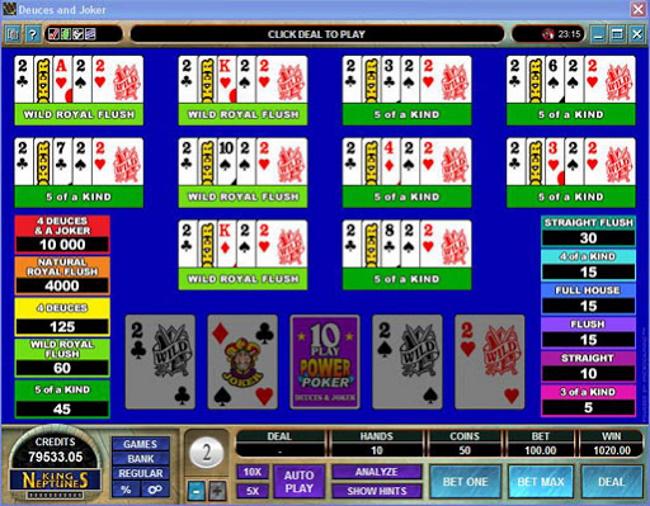 Deuces and Joker 4 Play Power Poker incorporates several elements found in slot games. For example, the Two and Joker cards will serve as Wilds. This means that they will be able to substitute for any missing card when it would have otherwise formed a winning hand. This is done regardless of the colour or suit of the Twos and Jokers. There have been video poker games that use such a feature, but typically there is only one card that serves as a Wild, whereas in this one we can play with two. This will only further increase your chances of scoring a win.
Multiple Hands At The Same Time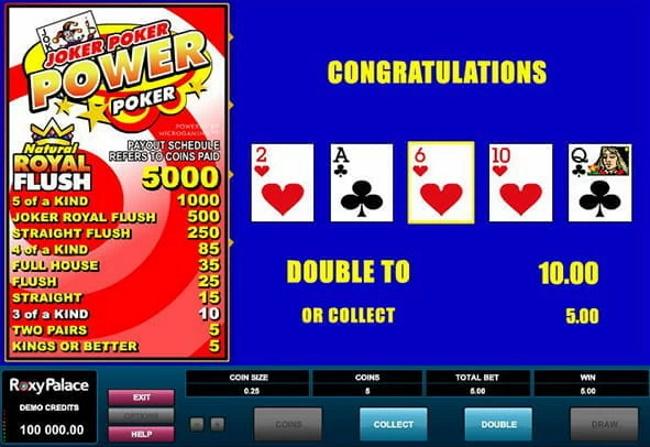 Additionally, this game allows you to play with multiple hands at the same time. Basically, you will be dealt a single hand and you will get to choose which cards you wish to keep. When this is done, whatever cards you kept will be present in four different hands. Each hand is independent of the other and will form its own winning combinations. For each hand, you will be asked to place a bet, which will drive the size of the bets slightly higher than usual.
There is also the Gamble feature to consider. After every win, you will have the opportunity to increase your winnings several times over. When you click on the Double button, you will be taken to a different screen, where your five cards will be dealt. The leftmost card will be revealed and you will be asked to pick a card with a higher value. A correct guess will award you with a payout of 2 times the size of your winnings.
Conclusion:
Overall, Deuces and Joker 4 Play Power Poker is an intriguing game that will no doubt bring you many hours of fun and enjoyment. While this may not be a traditional video poker title, it still retains the best aspects of the genre and will be just as rewarding. Any video poker fan will be delighted to play this and we wholeheartedly recommend that you do so
When you have completed the game, the total hand values of all four hands are calculated and the total winnings are added to your credits. If you have a winning hand you will have the option to double or collect your winnings. The highest hand you can get in Deuces and Joker Power Poker is Four Deuces and a Joker and it pays out 10,000 coins, with five coins bet.