Celebrating New Year Eve in Dublin Ireland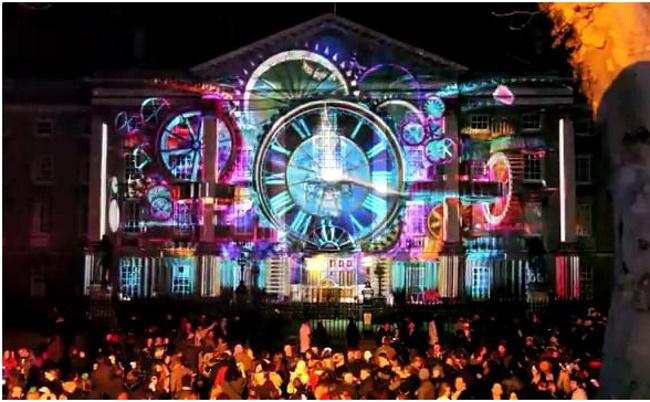 Getting ready for New Year Eve in Dublin Ireland! It's just awesome. Dublin is right now all glittering with lights and holiday sales, booze and hustle-bustle in the city. Dublin is the Irish capital, and the city offers more than anyone in the world can expect. Let's look at Dublin and immerse in the magical Irish experience to celebrate New Year 2020.
The festive has begun
Enjoy all the three days from December 30th – January 1st, the New Years' festival celebration is on with Irish music, dance, design, and events. You can take part in Count Down concerts where internationally renowned and local artists like the Coronas, Fatboy Slim, Kila, Ryan Sheridan & Little Hours take part. Early bird tickets are priced under €35 and are available online at Ticketmaster. The event starts at 8 pm and finishes at 12:30 am – leaving just enough time to continue your 'boogie' and partying within the city itself. This is one of the ways to celebrate New Year Eve in Dublin Ireland.
Liffey lights midnight moment matinee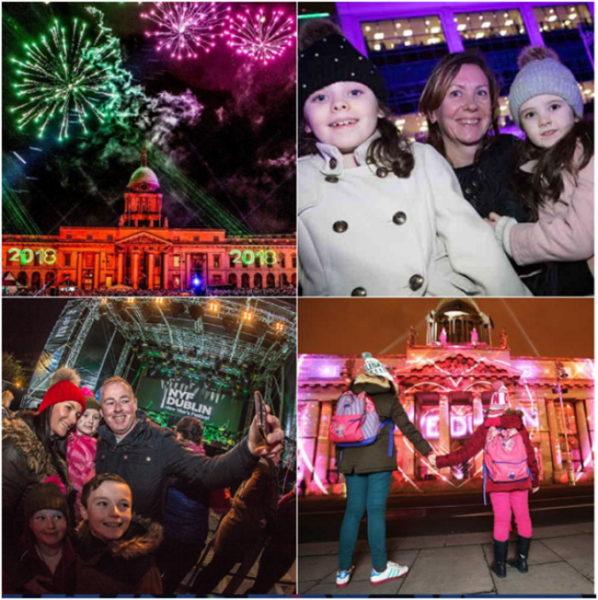 Families and friends of all ages can count down to the New Year together at Liffey Lights Midnight Moment Matinee, a very special earlier countdown event. It will be held at Customs House Quay and George's Quay Time:6:00pm – 7:30 pm
Children will be enchanted as the night sky lights up in a magical explosion of colour as laser lights and aqua beams dance in perfect harmony with the music. Entertainment for this FREE event will start at 6 pm leading to the earlier countdown spectacle at 7 pm.
Count down concert
Following sold-out tours across Europe and headlining major Irish arena and outdoor concerts this year, Walking On Cars are set to top off 2019 by headlining this year's Countdown Concert at Custom House. This is one of the events to celebrate New Year Eve in Dublin Ireland.
Walking On Cars will ring in 2020 with special guests Ash, Aimee and Lisa McHugh. Tickets (which include entry to the Liffey Lights Midnight Moment event) are priced €36.90 including booking fee and are on sale now. Click here for tickets now
Be a part of Procession of Light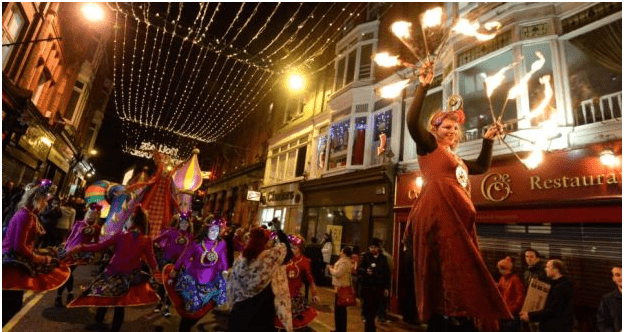 Just before Three Countdown Concert, Dublin City comes alive with the procession of light.  Building on last year's procession, Dublin invites you to experience and participate in one of the most magical processions in the world. Don't forget that a number of lanterns are available for the public to partake in this procession, with all donations going towards Focus Ireland helping prevent homelessness in Ireland. This too is celebrated on New Year Eve in Dublin Ireland.
Chance to be a world record holder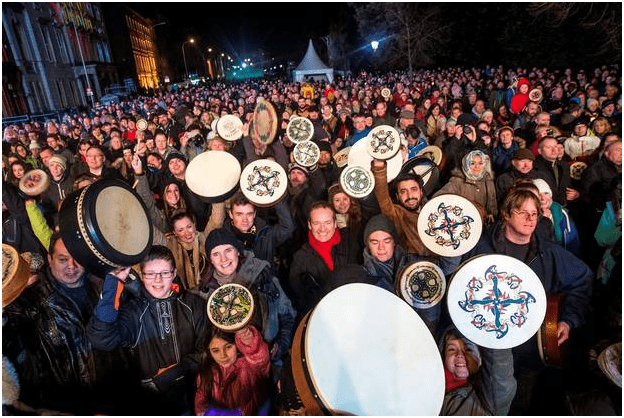 At the end of the Procession of Light, Dublin City is offering each and everybody an opportunity to become a world record holder by joining the world's largest Bodhrán (Celtic Drum) session. The city is expecting well over a thousand people to join this attempt, so if you want to take part make sure you register your interest. You can register here.
Go for some culture at the Spoken Word Festival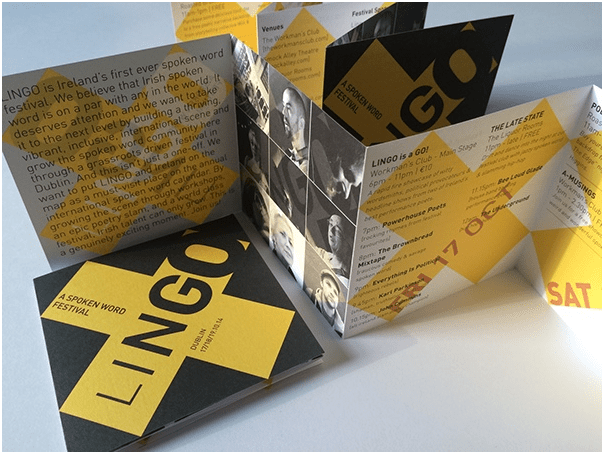 Scheduled for all three days of Dublin's New Years Festival, the Spoken Word Festival incorporates an eclectic line-up of upcoming and established artists, from poets to hip-hop artists, musicians and comedians.
Follow Dublin's music trail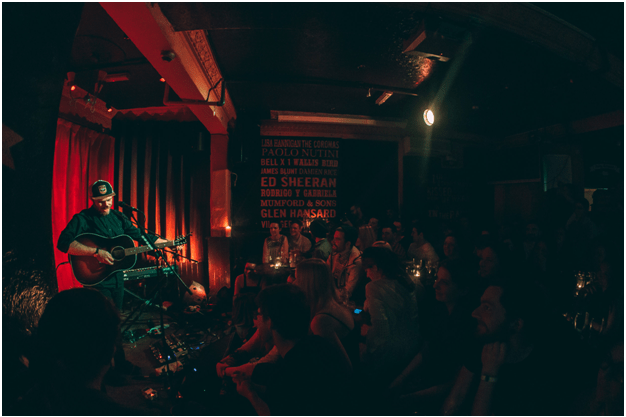 If music is your passion, head to the Ruby Sessions at Smock Alley Theatre. Just like previous years, the Ruby Sessions artists are kept top secret but there have been whispers already creeping across the city of a famous indie musician. Previous year's surprise guests have been Ed Sheeran, Paulo Nutini, Mumford & Sons and Damien Rice.
You can be part of the Light Show during New Year's Eve. Starting around 5 pm and finishing at 12 am on December 31st, Luminosity is a 3D light show that brings some of Dublin's most iconic buildings to life.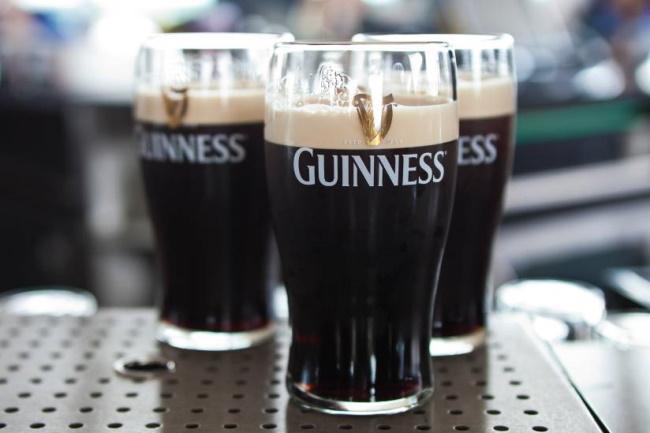 The Guinness Storehouse and its gravity bar is a perfect place to experience 360-degree views across the city while sipping on one of Ireland's most famous tipples. If you're interested in any of these events or want to find out more about this amazing 3-day festival to truly celebrate the New Year, then do check out the official website www.nyfdublin.com for more details!
Conclusion
You can do all these things on a new year's eve if you are planning to celebrate it in Dublin.