Untamed Bengal Tiger Slot Game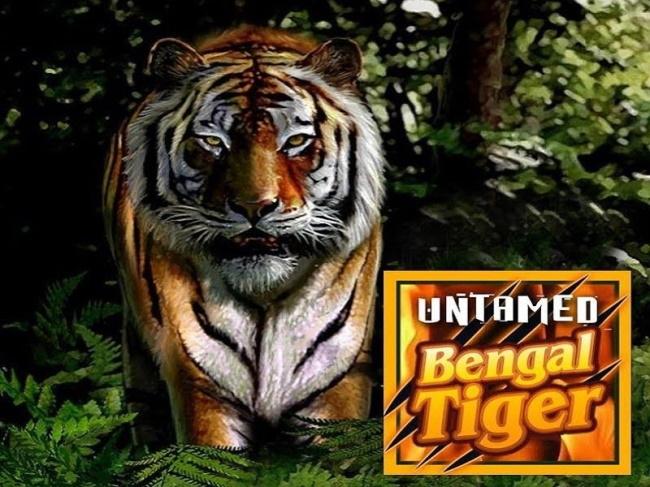 Earn your points with this slot machine from Microgaming. Dive deep into the Jungle to meet the biggest beast of them all – the Untamed Bengal Tiger. This classic fierce creature joins a number of other creatures from the Untamed slot machine series such as the Crowned Eagle, the Giant Panda and Wolf Pack.
Table of Contents
It's is quite safe to say that this game is the beastliest of them all due to its tremendous special features and roaring good action.
The game is a contemporary 5-reel video slot with 243 ways to win. This is good because it means that you won't have to wait too long before they find those all-important winning combos. However, this also means that the wins are generally smaller in size. That said, the game does offer the chance to win up to 90,000 coins with its Trailing Wilds feature.
The Theme Of The Slot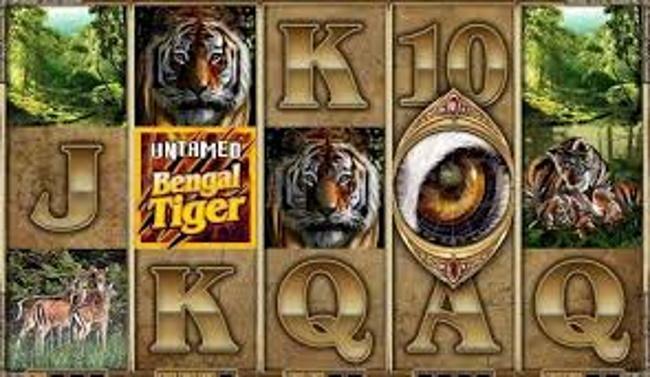 The theme of this slot machine is very simple, but it is effective in the way in which it evokes an exotic sense of the natural world. The rustically coloured reels are set over a luscious green jungle while a very cool musical score evokes the sounds of Southern Asia where the Bengal Tiger roams free and wild.
The game's symbols show this natural habitat in all of its vivacious glory, depicting beautifully sunlit rainforests, playful tiger cubs, and the almighty Bengal Tiger itself. These symbols will turn into life whenever they appear in a winning combination thanks to some captivating animation work by Microgaming's design team.
Tame The Beast – Untamed Bengal Tiger Slot Game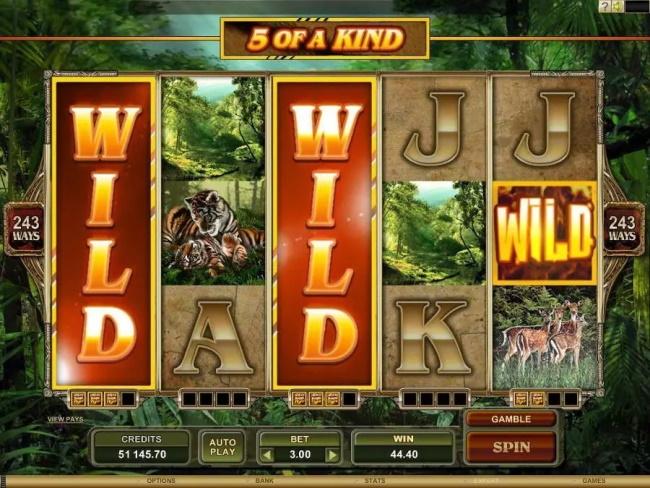 Before you enter the tiger's jungle kingdom, there are a few things that you should know. To start with, this is 243 ways to win the game, so you can forget all about pay lines and just worry about finding matching symbols on consecutive reels.
This also means that you don't need to select the number of pay lines that are in play during the game. Instead, you just need to determine the number of coins and the size of those coins by pressing the "Bet" tab at the bottom Centre of the screen.
You can wager up to 15 coins but there are only three coin sizes: 0.01, 0.02, and 0.05. These two values get multiplied together and then again by 30 to calculate your total stake per spin. If you want to find out how much each symbol is worth in a winning combination then simply click the "View Pays" link.
There is a wild and scatter symbol alongside the ordinary symbols, both of which bring some extra thrill to the gameplay. The wild symbol is the "Untamed Bengal Tiger" icon and it is a very useful symbol indeed. This is because it will fill in for other symbols to make winning combinations, except for the scatter, which is depicted as a tiger's eye in looking glass.
Special Features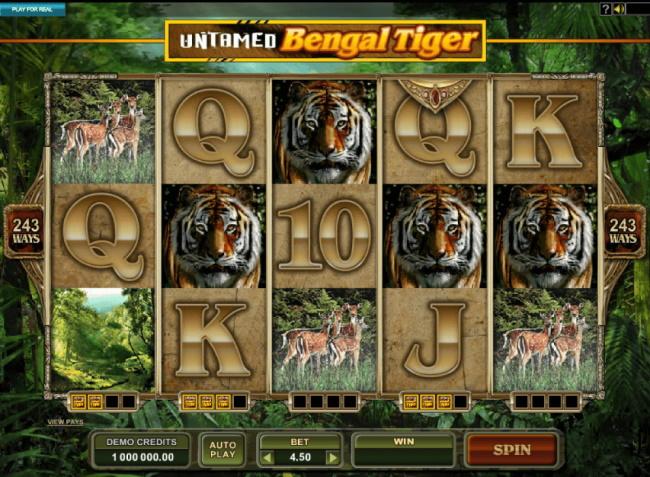 Just like all of the other titles in the series, Untamed Bengal Tiger Slot Game is home to some very thrilling special features. Some of these are active during normal spins while some are only brought into play during the bonus free spins round. The common denominator, however, is the fact that all of these extra elements have the capability to significantly boost your winnings.
1. Collect-a-Wild
This standard feature will count up how many wild symbols appear on each reel. Once you have collected four on one reel, the whole reel will become one big wild symbol for 4 spins.
2. Trailing Wilds
Go on the tiger's trail with this free spin bonus. On landing three or more scatters on a reel and 20 free spins will be initiated. During these free spins, wild cards will stick and slide down the reels to boost your winning chances.
3. Lucky Nudge
This will help you collect those three scatter symbols by shifting them onto the screen at random.
Your Gamble
This bonus side game is there to enter after you win any amount from any spin (you can even activate it after a round of free spins). You just have to increase or decrease the size of the red zone on the radar depending on how much of a risk you want to take. Then spin the dial and hope that it lands safely in the green area. Or else you will lose all of the winnings that were carried into the bonus round.
Take a Spin On The Wild Side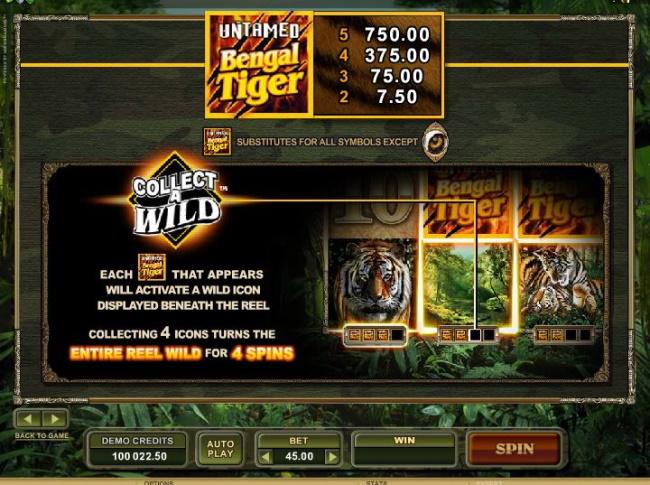 Untamed Bengal Tiger Slot Game is a beast of a slot machine with its various extra features. The fact that there are 243 ways to win might mean that you win little, but it also means that you will win quite frequently. And that is a quality that will attract many players.
Conclusion
The Untamed Bengal Tiger Slot Game by Microgaming offers players an exhilarating journey into the heart of the jungle, where the mighty Bengal Tiger reigns supreme. With its 243 ways to win and captivating visuals, the game transports players to an exotic realm filled with excitement. The combination of wild and scatter symbols, along with special features like Collect-a-Wild, Trailing Wilds, Lucky Nudge, and Your Gamble, adds an extra layer of thrill and potential for significant winnings. Overall, this slot game delivers a wild and immersive experience, inviting players to take a spin on the untamed side of the jungle.