How To Play Multifire Roulette at Ireland Casinos Online?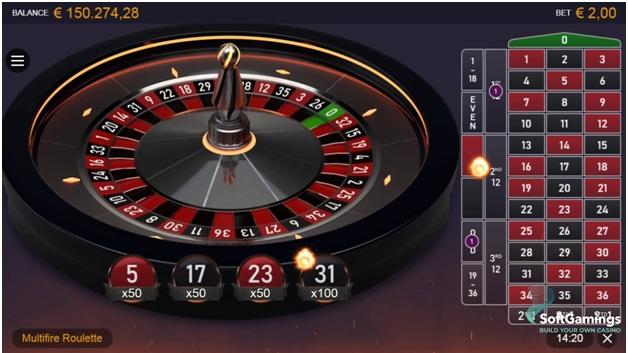 Multifire Roulette is a roulette game by Microgaming and Switch Studios which was launched in the year 2020. Multifire Roulette is best suited for both casual and high roller players as you can bet a minimum of $0.025 and the maximum you can bet in this game is $1000. This game has a jackpot of 500x through multipliers and is available to play on both desktop & mobile. This RNG roulette game also features multipliers, and bonus games, and is of high volatility.
Table of Contents
About Multifire Roulette
Multifire Roulette is based on the standard European roulette wheel with 36 pockets. Therefore, the ball can land in any of the numbered pockets 1 through 36 or the single zero. In Multifire Roulette, you can bet on 18 red numbers, 18 black ones, and/or the green zero pocket.
With Multifire Roulette, you can easily win up to 500x your initial stake. Random Multifire Roulette multipliers from 50x to 500x work together to help you leverage your betting system.
The Multifire Roulette minimum bet stands at $0.25 whilst the highest coin's value is $1,000. Depending on the casino, the maximum coin value may be $125. In either case, the maximum bet per spin in Multifire Roulette totals an astonishing $1,000.
How To Play Multifire Roulette at Ireland Casinos Online?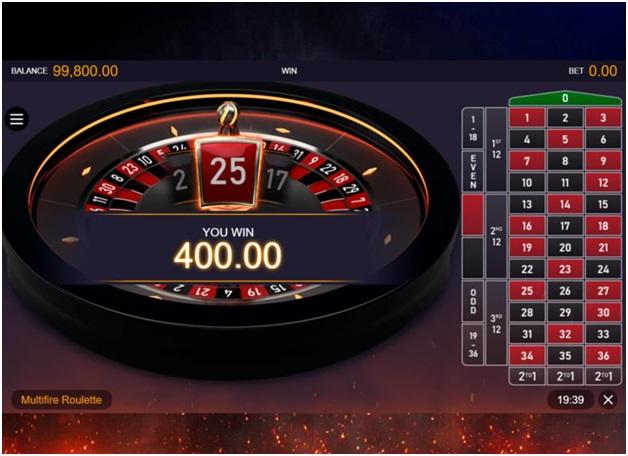 To play Multifire Roulette you need to join any friendly Ireland casinos online. The best we recommend is Mr Green Casino or any other casino that is powered by Microgaming.
The game is played just like any other roulette game. You can play for free or with real Euros that's your choice.
For real money play you need to make a deposit and grab the welcome bonus to play this game.
Then head to the table games lobby
Find this game of Multifire roulette and click to play.
Now place your bet
Simply click the coin in the center of the screen to adjust your wager.
Multifire Roulette Microgaming also offers racetrack bets for that extra spark. Therefore, you can bet on Tiers Du Cylindre, Les Orphelins, and Les Voisins Du Zero, too.
Additionally, Switch Studios integrated the "Random 3" feature which places a bet on three random straight-ups.
This game also offers amazing features in Multifire Roulette, you can double your stake by clicking the 2x button.
Next, you're just one click away from clearing up your current stake if you don't like it. Simply tap the "Clear" switch.
The impressively intuitive user interface helps you cruise through all the options you have with Multifire Roulette. Two more features you can try out include Turbospins and Autoplay. Turbospins speed up the game pace whilst autoplay lets you loll back and watch Multifire Roulette gameplay.
After you place your bet on this European wheel roulette, click Spin and let nothing surprise you.
Note that after you place a bet and tap Spin, you are taken to another screen. The POV switches from the table layout to the actual Multifire Roulette wheel. Below the fiery wheel, you'll notice the lucky numbers with their respective multipliers. In each round, there can be up to 5 lucky numbers.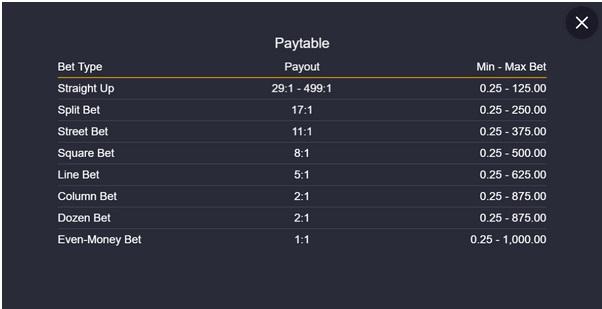 Next up, Multifire Roulette's trump card is the lavish multiplier selection. Each of the five lucky numbers has a multiplier to boost your balance even further. So, besides the standard payouts, each round comes with a potential multiplication of your balance.
As this is a European game, a straight-up bet pays at 35:1. However, if your straight-up bet receives a multiplier, your total win will be much, much bigger than 35x. The coolest thing is that a multiplier is guaranteed on each spin.
Read: How And Where To Play European Roulette In Ireland?
The Best Features of Multifire Roulette: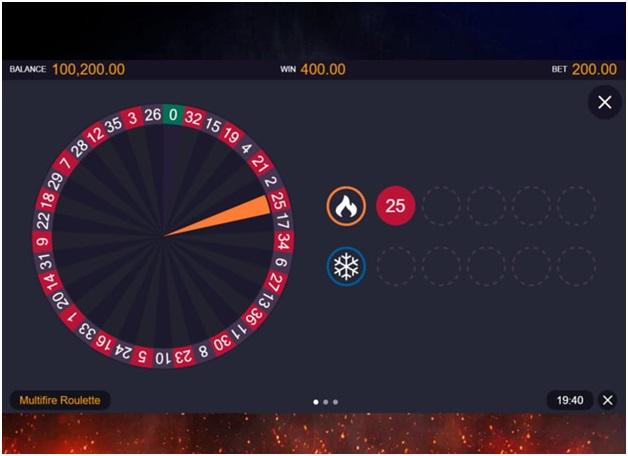 In this game, you have up to 5 lucky numbers on each spin
There are random multipliers from 50x to 500x, at increments of 50
The roulette game has a European wheel with 36 pockets
You have Racetrack bets
The graphics of the game is simply amazing with immersive visuals and gameplay
The game is intuitive and has a user-friendly UI
How to Win This Game?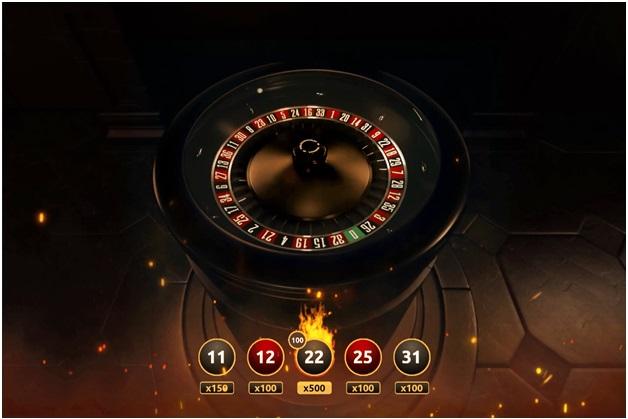 Though not much strategy is involved to win this game still you can use some of the following tips to make some good wins.
While playing you can either go straight for the highest-value coin of $1k, or you can build your bets gradually.
The best strategy for winning roulette is using a positive progression betting system such as Paroli. The idea of the Paroli system betting strategy is to increase or decrease the player's stake depending on the last result. It's straightforward to adopt and can even be used on other casino games like Pai Gow or Craps.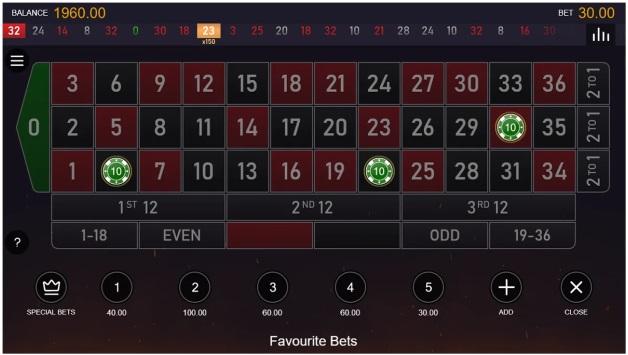 The interesting thing about online roulette games is that you can pick up the game easily and choose your stakes. While the even-money bets are great for roulette players looking to increase their bankroll, a betting system can help take it to the next level.
The Paroli system has been around since the 16th century and works with "positive progression staking". In effect, it's the opposite of the Martingale. With the Martingale, your stakes are doubled every time you have a losing spin. With the Paroli, the opposite happens: if you lose, you maintain your stake. Lose again, and the stake stays the same once again.
If you hit a winner, though, you double your stake and continue. The aim of the Paroli is to double your stake for three winning spins in a row. Once that happens, you reset your stake to the original amount.
If you choose Paroli in Multifire Roulette, you guarantee yourself a virtual seat for hours if you start with the lowest bet. By building on your stakes after a win, it would take you ages to hit the table limit, which is $1,000.
Read: Best Sites to Play Online Roulette in Ireland
FAQs
Q1. What is the RTP of the game?
It a 97.30% RTP and has a 48.65% hit rate.
Q2. How is Multifire roulette different from other roulette games?
It's the features that make this game different from other roulette games. Multifire Roulette shows off incredible multipliers from 50x to 500x which are activated at random. Also, this game boasts special racetrack bets, an intuitive user interface, and a broad betting range of up to $1k per spin.
Q3. How much can I win at Microgaming Multifire Roulette?
The maximum win in this Microgaming title is 500x your stake.
Q4. Where to play this game?
You can play this game at any Microgaming-powered online casino in Ireland.
Conclusion:
Multifire Roulette by Microgaming and Switch Studios is an exciting and innovative online roulette game that offers players a chance to win big with its random multipliers ranging from 50x to 500x. With its European wheel featuring 36 pockets, players can place bets on red, black, and green zero pockets. The game is suitable for both casual players and high rollers, with a minimum bet of $0.025 and a maximum bet of $1000. The stunning graphics, intuitive user interface, and availability on desktop and mobile devices enhance the overall gaming experience. While luck plays a significant role in this high-volatility game, players can consider using strategies like the Paroli system for potentially more extended sessions and better chances of success. Whether you're a roulette enthusiast or new to the game, Multifire Roulette offers an immersive and rewarding gameplay experience for players at Ireland Casinos Online.