How To Play Pai Gow Poker Online At Ireland Casinos?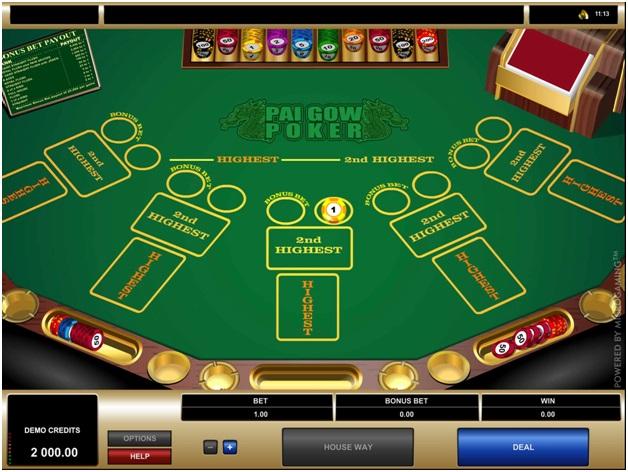 Pai Gow poker is a variant of poker game and is available to play at online casinos in Ireland. You can play Pai Gow Poker with real money or for free. Pai Gow poker at online casinos in Ireland is powered by top-brand gaming software like Microgaming, Betsoft, NetEnt, Playtech, RTG, and other such gaming companies.
Table of Contents
Pai Gow Poker from Microgaming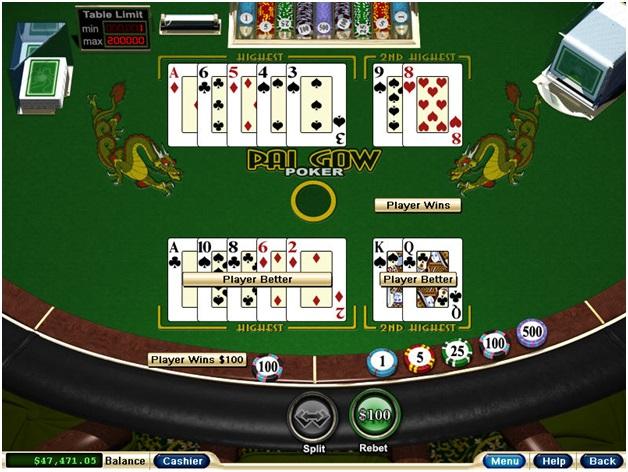 Pai Gow from Microgaming is one of the most popular Pai Gow pokers to play. You can play Pai Gow poker from Microgaming at any of the Microgaming online casinos like Rich Casino, 32 red casinos, Spin Casino, and others.
The game is conducted with 53 cards, including, and your goal as the player will be to form not one, but two separate hands that will beat the two hands the dealer has. You are dealt seven cards, and out of those cards, there is a "High Hand" of five cards and a "Low Hand" of two cards (which is actually the second high hand). To beat the dealer, you've got to have a higher-rated hand in both the High and the Low than the dealer has. If you do, you win, if you have only one hand that is better, it is a tie. And if both the dealer's hands are better than both of your hands, you lose.
Pai Gow Poker from RTG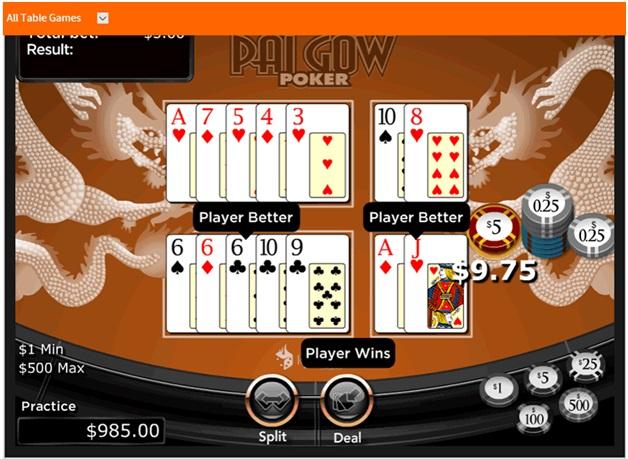 When you start to play Pai Gow from RTG you need to first place the bet. The table minimum for RTG Pai Gow poker is 1 chip (credit). Maximum table limits range from 100 to 500, depending on the game.
This means the stakes that can be played at a Pia Gow poker game is €1 up to €500. The ultimate aim of the game is to beat the dealer, beat the dealer and you'll receive a cash prize. A 5% commission is charged on all payouts (even money minus commission), and the lowest chip denomination is rounded down to a quarter (€0.25). Since the game is simply about beating the Dealer, payouts will only occur when that happens. As said above the payout is even money minus a 5% commission, which is rounded up to a quarter of the lowest chip denomination 0.25.
Pai Gow Poker From Betsoft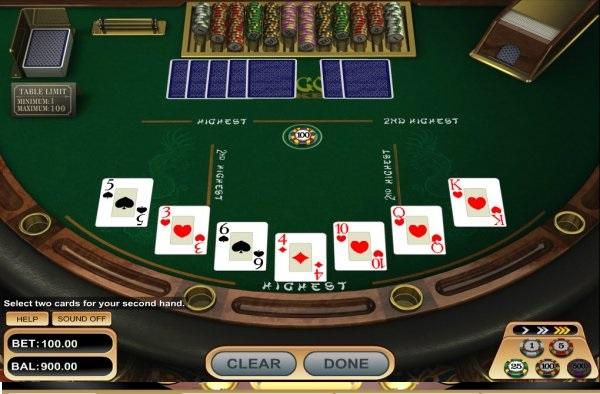 If you are playing Pai Gow from Betsoft with real money then there are certain betting limits. Bet at Pai Gow Poker for real money with a minimum of 1.00 and a maximum of 100.00 per hand. 5% represents the house commission hence a winning hand clears with 1.95:1. Before the round of cards begins, place a bonus bet and win if the second card completes close to five-card straight. The winning happens before splitting the cards into two and five hands.
Play Pai Cow Poker for real money that comes with a winning combo of 1 to 1 in your ante bet. Remember there's a 5% withdrawal commission. Pai Cow Poker's mobile-friendly game favors both the low and high rollers. Bet from as little as €1.00 to the maximum bet of €100.00 coupled with 97.15% RTP. Click 'House Way' and select the extra cards that are to be used in the second card hand.
Expect more frequent pay as you play Pai Gow Poker for free. Its low volatility feature makes it worth a ride. This incredible feature is only available for the online-based game unlike that of the land-based version. You can play this poker variant at Mr. Green Casino
How To Play Pai Gow Poker Online At Ireland Casinos?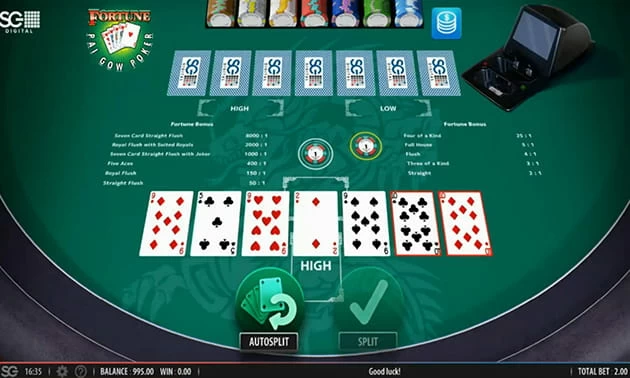 To play Pai Gow poker you join any friendly online casino in Ireland with your mobile, tablet or PC.
Simply visit the casino by typing the URL as an example https://www.32red.com/ on your Chrome or Safari web browser and hit enter. You will instantly land on the homepage and from there click on Join Now and fill out a short registration form with your details like Name, Address, Country, Phone number, and Email to get going. Once you are a verified account holder at the casino you can then go to the banking section to make an initial deposit of €10- €25 to play slot games in real-time with real cash Euros or Bitcoins.
At any Ireland-friendly online casino, you can make a deposit with real Euros in your own currency to play real money Pai Gow Poker.
On the games section select table games and under the table game section Click on the game of Pai Gow.
The casino will ask you to play for free or play with real money and you need to make this choice.
Pai Gow Poker Game Play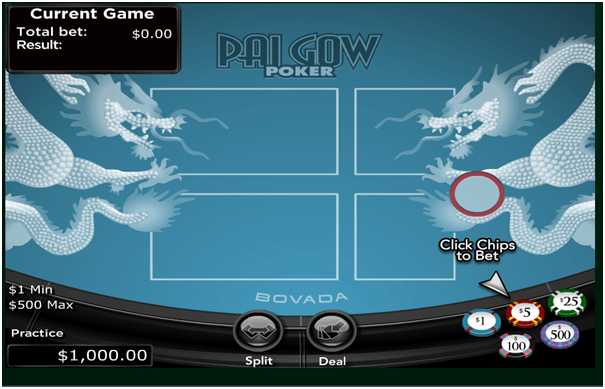 Pai gow poker is also called double-hand poker and is a version of pai gow that is played by playing cards, instead of traditional Pai Gow's Chinese dominoes. The game is played with a standard 52-card deck, plus a single joker. It is played on a table set for six players, plus the dealer. Each player attempts to defeat the banker (who may be the casino dealer, one of the other players at the table, or a player acting in tandem with the dealer as a co-bankers).
The object of pai gow poker is to create a five-card poker hand and a two-card poker hand from seven cards that beat both of the bank's hands. The five-card hand's rank must exceed that of the two-card hand, and it is for this reason that the two-card hand is often called the hand "in front", "on top", "hair", or the "small", "minor", or "low" hand. The five-card hand is called the hand "behind", or the "bottom", "high", or "big", as they are placed that way in front of the player when the player is done setting them.
The cards are shuffled and then dealt with on the table in seven face-down piles of seven cards per pile. Four cards are unused regardless of the number of people playing.
Bets In Pai Gow Poker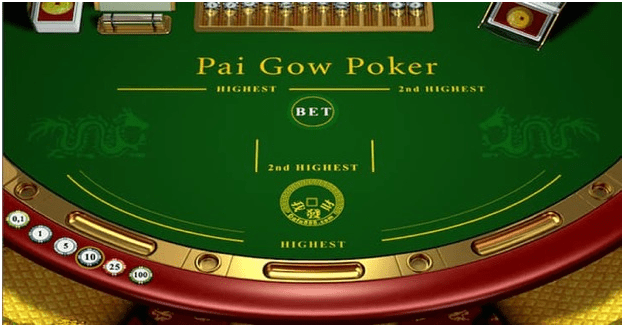 Betting positions are assigned a number from 1 to 7, starting with whichever player is acting as a banker that hand, and counting counter-clockwise around the table. A number from 1 to 7 is randomly chosen (either electronically or manually with dice), then the deal begins with the corresponding position and proceeds counter-clockwise. One common way of using dice to determine the dealer's starting number is to roll three six-sided dice, and then count betting spots clockwise from the first position until the number on the dice is reached.
If each of the player's hands beats each of the banker's corresponding hands, then he wins the bet. If only one of his hands beats the banker then he pushes (ties) in which case neither he nor the banker wins the bet. If both of his hands lose to the banker then he loses.
On each hand, ties go to the banker (for example, if a player's five-card hand loses to the banker and his two-card hand ties the banker then the player loses); this gives the banker a small advantage. If the player fouls his hand, meaning that his two-card hand outranks his five-card hand, or that there are an incorrect number of cards in each hand, there will usually be a penalty: either re-arrangement of the hand according to house rules or forfeiture of the hand.
In casino-banked games, the banker is generally required to set his hand in a pre-specified manner, called the "house way", so that the dealer does not have to implement any strategy in order to beat the players. When a player is banking, he is free to set the hand however he chooses; however, players have the option of "co-banking" with the house, and if this option is chosen then the player's hand must also be set in the house way.
Making Deposits At Online Casinos To Play Pai Gow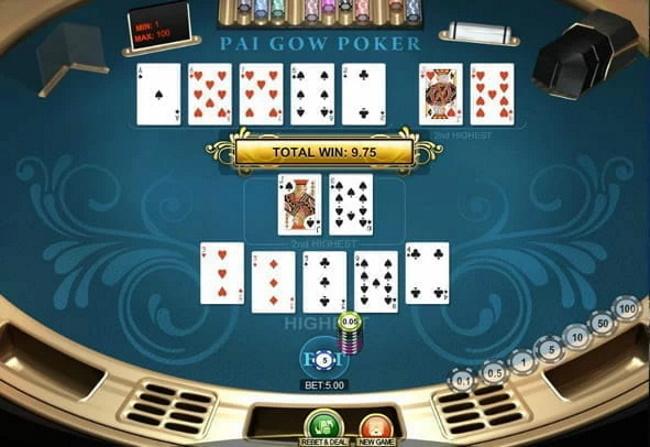 As said above if you play for real money you need to make a deposit of €10-€25 and if you make a choice to play for free then you needn't make any real money deposit but play for free.
You can pay or make a deposit by UPayCard, Credit cards, Bitcoins, Neteller, PayPal, or Skrill. Paysafecard, Astropay and other such modes. Deposits can be made in Euros or Bitcoins as mentioned before. Also, withdrawal modes will be the same if you used the deposit options using a UpayCard, NETeller, EcoCard, or Moneybookers/Skrill account with no fees apply. Most online casinos reserve the right to limit withdrawals to €500 per day and €2,000 per week at management discretion. Higher limits are available for VIP players. You can visit the cashier page of that particular online casino where you are playing Pai Gow Poker for more information
Bonus To Play Pai Gow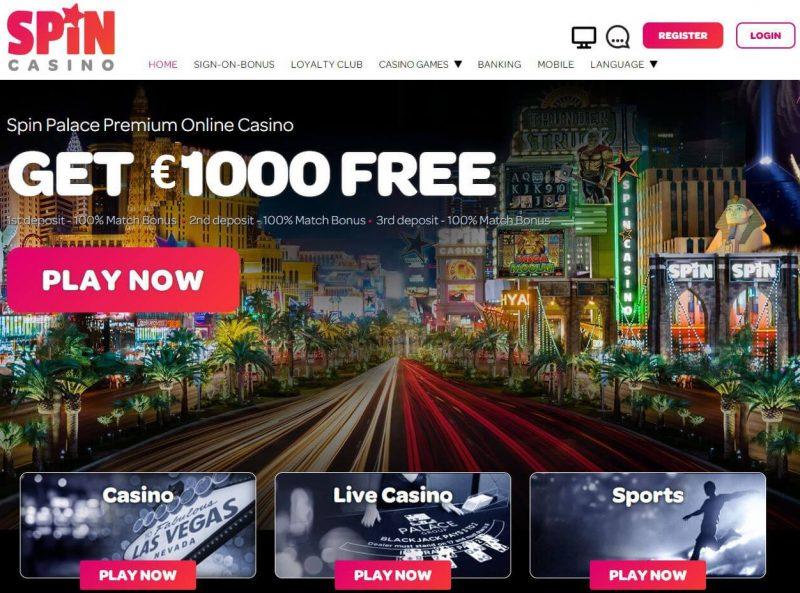 When you enter any friendly online casino in Ireland to play Pai Gow poker you are offered a no-deposit bonus or welcome match deposit bonus as a new player. If you use cryptocurrency Bitcoins to make a deposit at the casino to play Pai Gow poker you are offered an exclusive Bitcoin bonus.
Rich Casino, as an example, offers bitcoin deposit bonuses as well to play slots with real money or play Pai Gow poker with real money.
Finally, remember that all of the good and best online casinos offer 24/7 customer support and you can either have live chat or email them at support@ given email address. Also, you can use their FAQ page and go through their common questions and answers often asked by players to clear your doubts, or call them at their toll-free number for your general queries.
Conclusion
Pai Gow Poker is a popular variant of poker available to play at online casinos in Ireland. Players can enjoy the game with real money or for free, and it is powered by top gaming software providers like Microgaming, RTG, and Betsoft. Each provider offers its unique features and betting limits to cater to different player preferences.
To play Pai Gow Poker at online casinos in Ireland, players can sign up and make deposits in Euros or Bitcoins. The game involves forming two separate hands to beat the dealer's hands, creating an exciting challenge for players. The availability of various bonuses, including no-deposit and match-deposit bonuses, adds to the overall gaming experience.
With 24/7 customer support and a wide range of betting options, Pai Gow Poker offers an entertaining and rewarding option for Irish players seeking a thrilling poker experience online.