Where To Play Blackjack In Ireland?
Blackjack in Ireland is one of the most popular casino games of all time and Irish punters love this game. You can play this game at real land casinos in Ireland and at online casinos or Ireland. If you opt to play for free then there are many Blackjack free game apps at app stores to download and play for free. Otherwise, also online casinos also offer free Blackjack games to enjoy with mobile or PC.
Table of Contents
Types of Blackjack to play
There is much of a variety at both land and online casinos to play Blackjack in Ireland. This means there are many variants of this game available that can be played solely, with groups as a tournament and at a live casino. Here are some of the most popular blackjack variations you can find to play.
Surrender Blackjack: This is a form of blackjack that allows players to surrender their hands and receive half the bet back.
Perfect Blackjack: This variation of the game gives players the chance to place up to five blackjack side bets, otherwise the rules are just like regular blackjack with the dealer sticking on 17.
Pontoon: Usually played with eight decks, this version uses the standard blackjack rules with the player receiving two face-up cards and the dealer receiving two face-down cards.
Switch Blackjack: The player gets two hands instead of one in this blackjack game, with the option to switch the top two cards between hands.
Multi-Hand Blackjack: This is a variant of the game that allows players to play more than one hand per game.
All these Blackjack variants, as well as the standard game of Blackjack, are powered by top-notch gaming providers like Microgaming, Playtech, and others.
Casinos in Ireland to Play Blackjack
You can play Blackjack in Ireland at Land or real Casinos. Here are a few of the best ones to explore.
1. Fitz William Card Club Casino- Blackjack in Ireland
Location: Clifton Hall, Fitzwilliam Street Lower, Dublin 2, D02 XP89, Ireland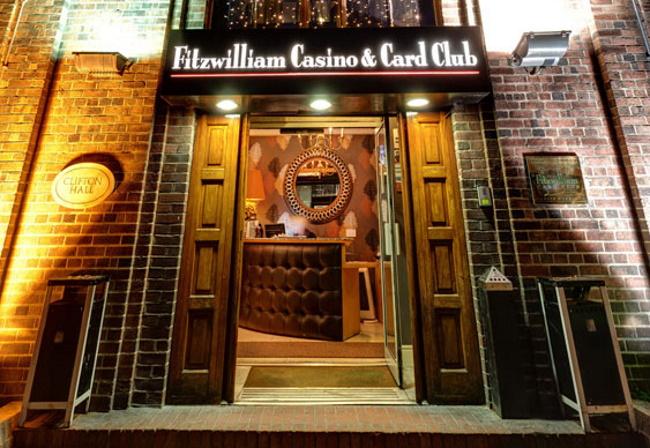 You can play for free or play with real money here. Here find three Blackjack tables in the Fitzwilliam Card Club. Your aim is to beat the Dealer's hand by attempting to get as close to 21 as possible without going over.
To play, place your cash on the table and ask the dealer for change (cash chips) then decide how much you wish to bet by placing your chips in the box. The Dealer will deal two cards to you (and any other player on the table) and one to themselves. All cards are dealt face up. Picture cards have a value of 10, Aces are valued at 1 or 11.
The Dealer will offer you the option of taking additional cards – to accept extra cards, either tap the table or say "card please". To refuse extra cards, say "stay", "stick" or "no cards".
Once you have decided to stop taking additional cards, the Dealer begins to add cards to their own hand. The Dealer must draw a card if their total is less than 17 and stop once they reach 17 or more. Over 21 (bust or 'too many') and your hand wins if it is still live.
If your total is higher than the Dealer or the Dealer has bust, then your bet is paid at even odds. If your total is lower then you lose your bet and if equal then you get your money back.
A "Blackjack" is a two-card hand consisting of a picture card (that includes 10s) and an Ace – this hand will pay you odds of 3 to 2 (€15 for €10).
The Dealer will shuffle a total of 6 decks of cards and will ask you or another player to cut the cards before placing them in a "shoe" for dealing. You may play more than one hand at a time.
2. Fitz Patrick Casino -Blackjack in Ireland
Location: 1 Pery Square, Glentworth St, Limerick, V94 N244, Ireland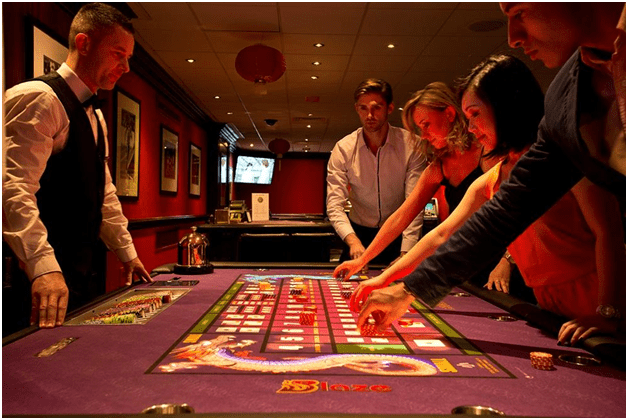 Fitzpatrick's Casino, located on Glentworth Street, offers Blackjack tables that are available every night from 9 p.m. till late. All tables are dealt with by professional croupiers and have waitress service with complimentary drinks and snacks. Here also Blackjack is played against the dealer, who also has a hand of his own.
The dealer opens the game by dealing with two cards for everyone. A player examines his cards to decide if he wants to hit, split, stand or double down. Though there are several players at a table each one is playing the dealer individually. The object of Blackjack is to beat the dealer total without going over a total of 21.
3. The Sporting Emporium- Blackjack in Ireland
Location: 5 Anne's Lane, South Anne Street, Dublin 2, D02 AK30, Ireland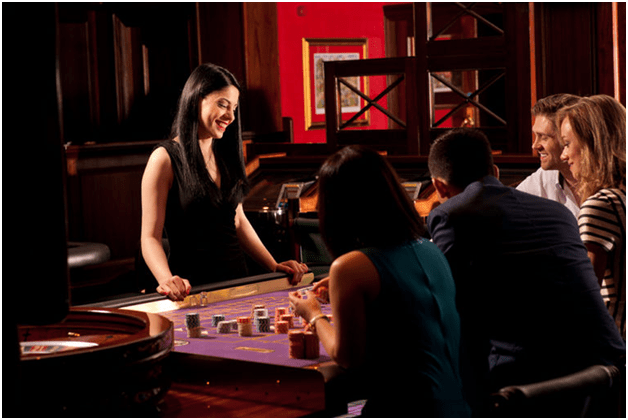 The Sporting Emporium is the largest, most luxurious Casino in Ireland. Situated just off Grafton Street, in Dublin City Centre and is open 7 nights a week from 6 pm until 6 am.
The Club features the best in live gaming including Blackjack. The Sporting Emporium is the only casino in Ireland to offer Free Bet Blackjack. Membership to The Sporting Emporium is a once-off fee of €25, which includes €25 FREE betting chips and a choice of complimentary drinks while playing at tables.
In the standard Blackjack game, you play against the dealer aiming for a hand of cards with a higher total value than that of the dealer, without going over 21. Kings, Queens, Jacks and Tens are worth a value of 10. An Ace has the value of 1 or 11. The remaining cards are counted at face value. Place a bet on the betting area of the table. Players are dealt two cards each, while the dealer is dealt one facing upwards.
Decide whether you wish to "draw" or "stay" based on the value of the cards you hold. You can continue to draw until you are satisfied with your hand. Once all players have taken their turn the dealer draws another card for their hand. If the dealers' cards total 16 or less they must continue to draw until 17 or more are reached.
You can try the Perfect Pairs side bet, which is a wager on whether your first two cards are going to be a pair. There are three types of pairs: a perfect pair, a coloured pair and a mixed pair with payouts ranging from 6/1 to 25/1.
Blackjack Bonuses
FREE BET Blackjack offers a range of unique bonuses and is a great way of boosting the excitement in your Blackjack game. FREE BET Blackjack looks and feels a lot like traditional Blackjack but with some unique rules. When players receive two of the same card (except 10s) or when they receive a 9, 10, or 11 with their first two cards, they receive FREE BETS to the value of their original stake in the form of a chip-size gold coin.
If the player's hand wins, the free bet gets paid at even money. Another big difference to traditional Blackjack is that a total of 22 for the dealer isn't a bust, but instead a push for everyone.
Related read: How To Win Online Casino Blackjack
4. D1 Club Casino- Blackjack in Ireland
Location: 63 Dorset Street Lower, Inns Quay, Dublin, Ireland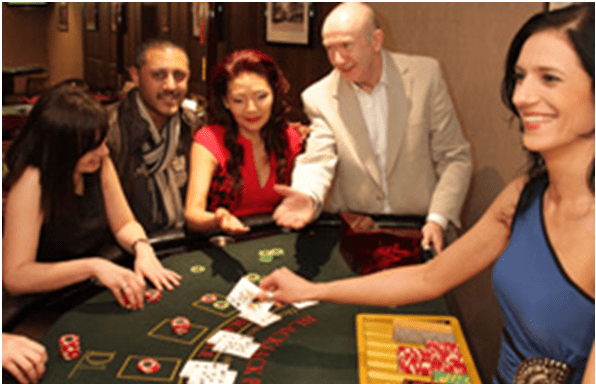 This casino also offers live blackjack tables. The objective is to beat the Dealer's hand with a combination of 2 or more cards, without exceeding a hard total of 21. All cards are counted at face value. Kings, Queens and Jacks count as 10 and Aces count as 1 or 11 (leading to the term Soft or Hard total). If your first two cards equal 21, you have Blackjack, you cannot lose although you can tie if the dealer also has Blackjack; this is called a "Standoff" or a "Push".
With any other card combination other than Blackjack, you may signal the Dealer to "Stand" or "Hit" (stay or draw additional cards). If your card count is closer to 21 than the Dealer's, you win; If you tie with the Dealer, it's a "Push". If you or the Dealer draws over 21, the hand is "Bust". If the Dealer "Busts", the house will pay all the players still in the game.
5. Macau Sporting Club- Blackjack in Ireland
Location: 16 St Patrick's St, Centre, Cork, Ireland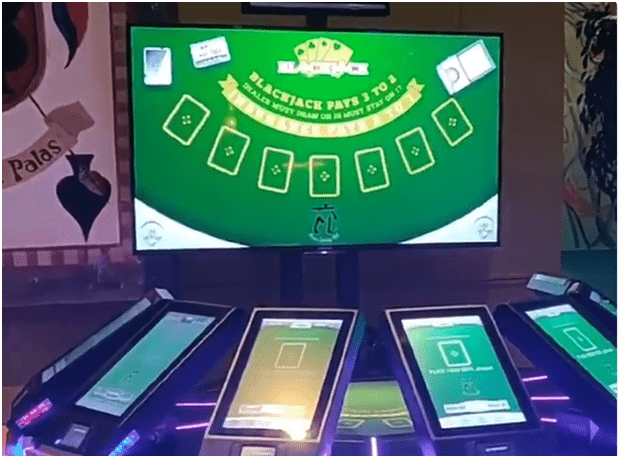 At Macau Sporting Club Blackjack rules are the same. Pick a table and place a bet on Ante and/or Pair Plus. You and your fellow players are dealt two cards each whilst the dealer is dealt one face-up. Decide whether you wish to 'draw' or 'stay' based on the total of your cards. You can continue to draw cards until you are happy with your hand. Once all players have taken their turn the dealer draws another card for their hand.
If the dealer's cards total 16 or less they must draw until they reach 17 or more. All bets are paid even money with the exception of blackjack. There is a 2 /5 min bet table to 250 max; 10/25 min bet table to 250 max and 50 min bet table to 500 max bets. There are also electronic Blackjack tables to play here.
6. 4 Kings Casino & Card Club- Blackjack in Ireland
Location: Airside Retail Park, Swords, Co. Dublin, Ireland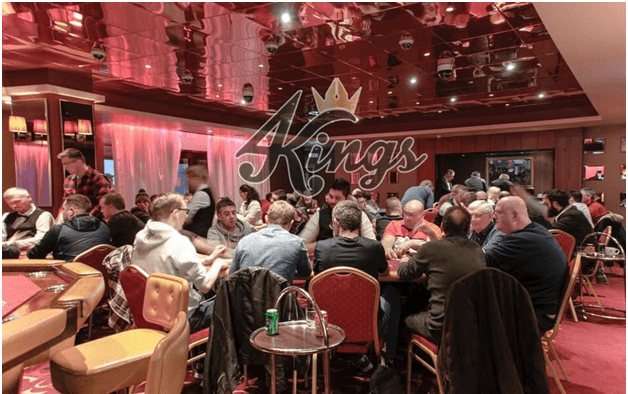 Walk around and take a look at the different Blackjack tables. Each will have a sign showing the minimum bet needed to play, so find the one that best suits your betting level and take a seat.
To start the game just place a bet in the marked box. If the table is busy you may find other players placing bets behind you on the box, and standing next to you. This just lets more players get involved in the game, but you still make all the decisions. The dealer will deal you with two cards and one for themselves. Each card has a numerical value; numbered cards are self-explanatory; face cards are 10 and Ace cards can be either 1 or 11 depending on your hand. The game aims to get as close as you can to 21 without going over or 'busting'.
Besides these real land casinos, you can also play Blackjack at Timeout Casino and card club, Riverboat Casino & Poker Club, Westbury Club, Carlton Casino, Grands Casino and a few others.
If you are not interested in venturing out physically at these casinos then you can try our legit Blackjack online casinos and have fun playing for free or with real money.
Conclusion
In conclusion, Ireland offers a wide variety of Blackjack options, both in land-based casinos and online. With a multitude of variants like Surrender Blackjack, Perfect Blackjack, Pontoon, Switch Blackjack and Multi-Hand Blackjack available, there's certainly no shortage of opportunities for both beginners and seasoned players to try their hand. A diverse array of casinos such as Fitz William Card Club Casino, Fitz Patrick Casino, The Sporting Emporium, D1 Club Casino, Macau Sporting Club and 4 Kings Casino & Card Club offer unique gaming experiences. Each of these venues provides its unique vibe, from luxurious settings to vibrant atmospheres. These casinos also offer different rules and side bets, which add an extra layer of excitement to the gameplay.