Tapstak App – 'The Remote Control For Life' For You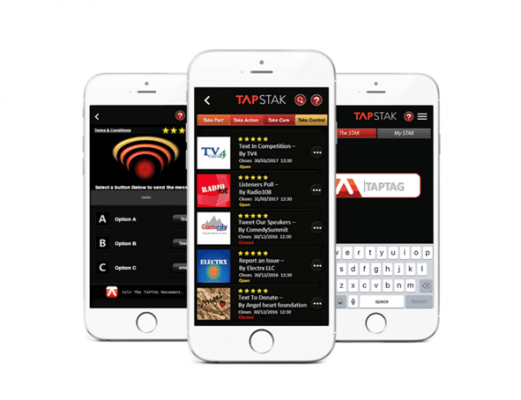 In today's world, we interact with so many businesses, organisations and even things using our smartphones that interaction is starting to get a bit complicated! The new Irish Company, TAPSTAK is intent on transforming the way we interact with the world around us have created one smartphone App that can interact with everything.
Table of Contents
This app was created to make life's interactions as simple as the tap of a button on your smartphone by engineering graduate, Michelle Donovan (25) and her father Tony who are the main drivers behind a plan to allow people to interact with any show, event, service or product using this one mobile app.
Tapstak Mobile App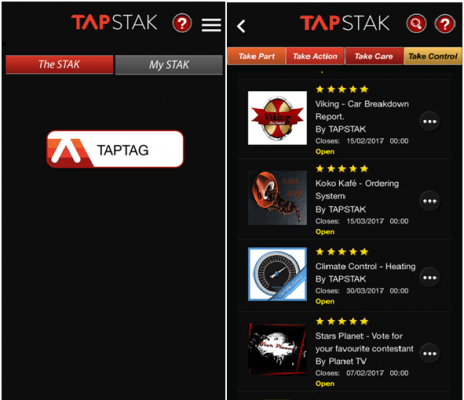 The TAPSTAK mobile app organizes all the best buttons in micro-apps within TAPSTAK, which can be found by simply searching a TAP TAG. You can even save micro-apps to "MY STAK" so that your favourite buttons are ready when you need them!
The goal is to remove friction, confusion and hesitation from real-world interactions, such as entering competitions, paying for parking, reporting faults and opening high-security locks – in fact, anything that can be done by pressing a button on a smartphone – by allowing people to use TAPSTAK app for every interaction.
TAPSTAK app has taken a decision to concentrate on push-button interaction because, despite the fact that technology now has the ability to listen to our spoken needs or even use machine learning to predict and cater for them without any prompting, such technology has its security and privacy downsides.
Features of the App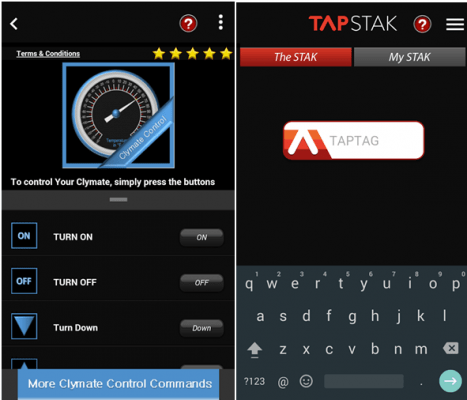 TAPSTAK app is like your personal remote control for life! You can use TAPSTAK to:
• You can enter a Text-In competition.
•Also vote or answer a poll.
• Go ahead to create a tweet.
• Now also order a coffee when you want
• Also pay for Parking or toll roads.
• Report a problem you face
• Panic buttons for your emergency to use
• Control your smart appliances.
• Build your own micro-apps.

According to TAPSTAK app co-founder, Michelle Donovan, "As a so-called Millennial, I have always been able to communicate my likes, needs and decisions with an online 'click' so I really like how TAPSTAK extends this ability into the real world. TAPSTAK allows people to interact with so many everyday experiences using simple push-button interaction that it almost makes everyday life 'clickable'.
"The need to download another App or bookmark a website for everything I want to interact with has often frustrated me – it's so impractical, dated and unsustainable when you think about it! The average person has over 20 apps on their smartphone and only ever really uses three or four. TAPSTAK's smart buttons and micro-apps can support almost any interaction using one App and can be customised to each person's needs" she added.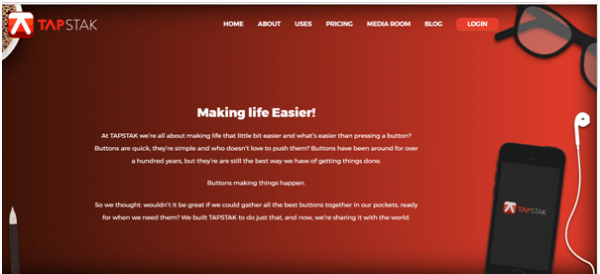 According to Michelle, Tapstak app now allows any business to engage with people in a very simple, cost-effective manner. "Developing and deploying mobile Apps can be costly and time-consuming – particularly for small and medium companies. Tapstak now removes the need to get an app onto every smartphone and allows them to instead concentrate on building smart systems to receive and react to information sent from Tapstak. This app opens up huge new opportunities for businesses to add direct mobile interaction to their digital toolbox as well as allowing data analysis systems developers and hardware manufacturers to bring new products to market quicker and more cost-effectively".
A key part of how Tapstak app works is the Taptag. Just as Twitter hashtags allow you to zone in on a particular conversation among millions taking place worldwide, Taptags make it possible for users to access the buttons they need when they need them. Like hashtags, Taptags can be added to anything in the real world using word of mouth, printed labels or even embedded in beacons. Unlike Twitter hashtags, however, Taptags can be exclusively registered by a business within a geographical area – in the same way as a web address.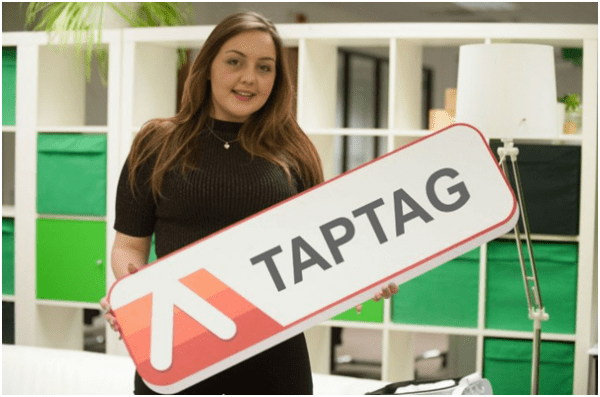 Co-founder Tony Donovan said that early testing has proven very encouraging. "Throughout the testing phase, we have had excellent results and feedback. We saw a 60% increase in print media competition entries, 98% engagement with activities once they were opened and saw a potential to reduce contact centre customer response times by up to 75%. This can now be applied to almost any existing point of interaction by simply adding a TAP TAG and micro-app.
"We have had very constructive discussions with a number of national and international brands who are keen to get involved in TAPSTAK app and see the benefits that such a platform will bring to their business and to businesses as a whole."
Talking about the inspiration behind Tapstak, Tony said: "The idea for what has become Tapstak started with a text-in competition featured on the Irish Late Late Show. A question was asked with three possible answers provided and in order to enter, viewers were asked to text in a keyword, followed by their name, followed by their answer. It surprised me that despite so many advances in smartphone technology, someone hadn't yet created a way of entering these competitions by just pressing a button on a smartphone to automatically create and send a properly formatted text.
"Using some basic coding skills, I developed a stand-alone App for entering the Late Late Show competition and encouraged by how it made the process simpler I approached Enterprise Ireland and Nimbus and with their help developed a beta platform called Voxtake (a play on voxpop) for automating SMS based interactions with radio and TV shows. However, we soon realised that the possibilities went far beyond the initial use-case, acquired a patent and changed the name to Tapstak to reflect the more universal appeal" he said.
Tapstak is officially launched in Ireland and plans to expand to the UK also. "We have many developments underway for our users to look forward to and with the help of our end-user feedback and partners, we aim to quickly develop Tapstak into the sophisticated communications platform with endless possibilities that we envision," said Michelle, who has a degree in Electrical & Electronic Engineering from UCC and a keen interest in STEM, particularly Smart System Design.
Tapstak is available for free download from the Apple iTunes app store for iOS devices and requires IOS6. 0 and above compatible devices. For Android users, you can download from Google Play Store all free and requires 4.0 and an up-compatible device. In case of any issue, you can contact here or write an email at contact@tapstak.com
Conclusion
Tapstak, a new Irish company, has introduced a smartphone app designed to simplify interactions with businesses, organizations, and services. Developed by Michelle Donovan and her father Tony, the app aims to streamline real-world interactions through push-button actions on a smartphone. The Tapstak app organizes various buttons, or micro-apps, that can be accessed using Tap Tags. This technology aims to remove friction and confusion from everyday tasks, including entering competitions, paying for services, reporting problems, and more. With its focus on push-button interaction, Tapstak prioritizes security and privacy while allowing users to engage with a wide range of activities and services.