Why Retired People From Ireland and UK Flock to Live in Killarney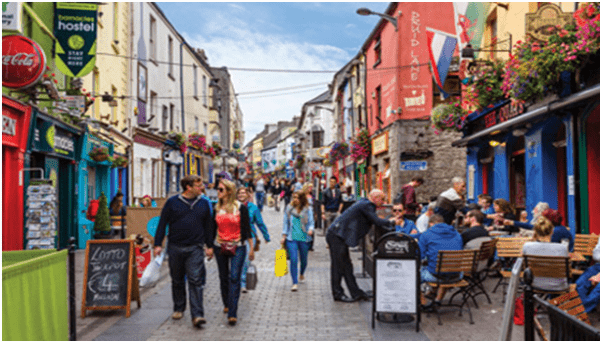 It is said that Killarney is famous place for party goers and casino players. The nightspots in this area are often busy all through the year. Also sports like rugby, soccer, rowing, judo, golf and horse racing is prominent here.
Killarney is an Irish word meaning church of sloes and is a small town in county of Kerry in south western Ireland. The town is on the northeastern shore of Lough Leane part of Killarney National Park, and is home to St Mary's Cathedral, Ross Castle, Muckross House and Abbey, the Lakes of Killarney, MacGillycuddy's Reeks, Purple Mountain,  Mangerton Mountain, the Gap of Dunloe and Torc Waterfall.  Its natural heritage, history and location on the Ring of Kerry make Killarney a popular tourist destination. Also the Kerry town has one of the oldest populations of any large Irish town
People retiring to Killarney from other parts of Ireland the UK is a growing phenomenon, and may be a factor in the Kerry town's population now being the oldest among large towns in the country, with an average age of almost 41.
Another factor that might have contributed to the finding of the most recent census, released on July 2017, is that the census was taken at a time when tour groups with older visitors would have been counted in the town's many hotels.
So Why Do People Come Here To Settle After Retirement
Here are the facts as why people wish to live here after retiring from their jobs.
Killarney also has a large community hospital and at least two elderly care and nursing centres.
There is something happening in Killarney all year round, including many activities, making the town more attractive for active older people than, for instance, Kenmare.
Retired people who have sold up in cities are also more likely to be able to afford to move to the town to set up home.
There are 26 casinos within hundred miles of Killarney to play and enjoy namely Paddy power, Killarney Racecourse, Tralee Racecourse, Listowel Racecourse, Cork Racecourse , Gold Rush Casino, Curraheen park Grey hound stadium, The bank casino card club, Macau Sporting Club, Limerick Racecourse, Fitzpatrick's Casino, Timeout Casino and Card Club, Limerick Park Greyhound track, Tipperary Racecourse, Showboat Casino, Youghal Park Greyhound stadium, Clonmel Race course, Thurles Racecourse, Caesars Palace, The Eglinton casino and card club and few others.
Houses are in demand here for retirees to buy. The prices for these in-demand three-bed semis can be from €185,000 to €285,000.
Many of those moving into Killarney have connections with the town or with other parts of Kerry.
Once named by National Geographic as 'the most beautiful place on earth', the glorious scenery is squarely balanced with the provision of amenities here. You will love the town with horse-drawn carriages to boot. There are also plenty of shops and restaurants  and not to forget wonderful bars, a;sp some of the country's best golf courses. With historic sites and local culture abound, it's unsurprising that it's one of the most-visited places in Ireland.
Are you planning to retire to Ireland then keep in mind it also require high financial requirements. Make a choice and keep your dream spirit high to retire at Ireland.