How to Use Much Better Payment Options at Irish Online Casinos?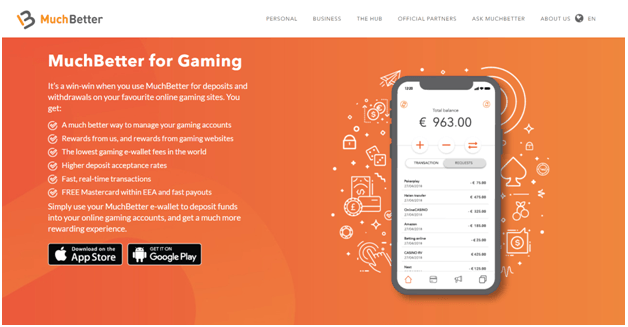 Much Better is the new payment option at Irish online casinos to play slots, live casinos, table games, scratchies, Keno and Bingo in real-time. Why use Much Better as a deposit option at online casinos? Well, the answer is that Much Better is an instant payment mode which means you need not wait for days to get your real Euros to come to your casino account. Also, the minimum amount you can fund your casino account with Much Better is €10 and the maximum is €10,000 which is very convenient for all types of players be they high rollers or low stake players.
Table of Contents
Much better also comes in the form of an app if you want and can download this payment app on your mobile to play slots in real-time with your mobile too.
How Much Better works?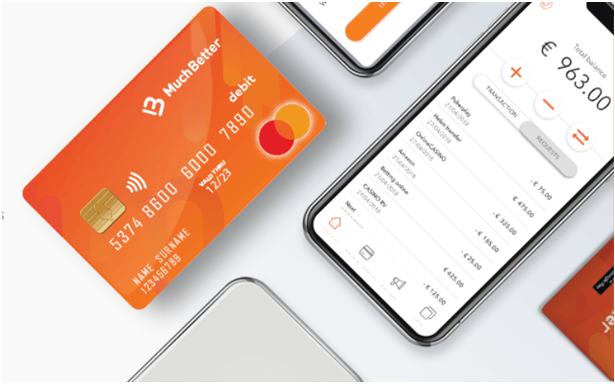 If you are playing slots on mobile then follow the below steps to fund your casino account with Much Better:
Download the app from App Store or Google Play store for your iPhone or Android
Next, create your account with Much Better
Enter the verification code sent to you via SMS
Now fund this eWallet with real money using your credit or debit cards
If you are using Much Better on your PC then you can visit here
You are ready to use this wallet at online casinos for fast transactions, smooth withdrawals and exclusive rewards.
Go to the cashier or banking page at the online casino and tap or click on Much Better payment mode.
You will at once be prompted to do the payment.
Once done you will get the cash balance on your casino account
Now go to the games lobby and select the slot or live casino to play and win.
Every time you use your Much Better e-wallet to deposit €100 or more, you get reward points. Every week your reward points are entered into a prize draw with a chance to win £100. You can also win with Much Better Gifting. Every time you send a gift of £10/€10 or more, you get reward points. More reward points mean more chances to win in the weekly prize draw!
Moreover, use this eWallet at Irish online casinos and every time you deposit funds or withdraw winnings using your MuchBetter e-wallet, you'll be the first to hear about promotions and rewards from those brands.
Remember you can make a deposit as well as make a withdrawal using the Much Better payment option at an online casino.
How to get a new premium Orange Card?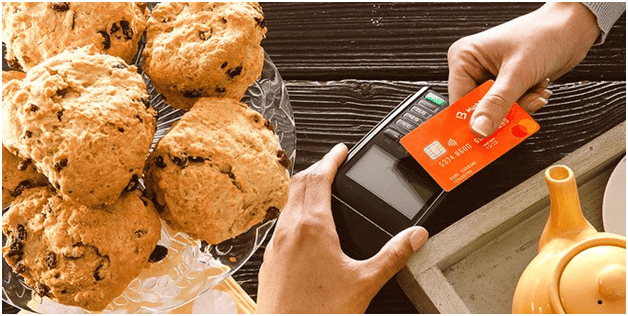 As long as you reside within the EEA, you can order a free Much Better card and key fob for a price of £10 (or currency equivalent). All you need to do is go to the devices section within your mobile app. Launch the app, log in and check your balance status. If you have a £30 (or your currency equivalent) minimum balance you are eligible to place an order. Now, this does not mean you will be charged anything extra, this is just the sum that is required to be able to execute the order.
At the bottom of the screen, you will see the contactless payment symbol, select that and then "Get your free card". Confirm your address and choose your card PIN number. When this process is complete, your order will be placed automatically. If you haven't joined the orange revolution, this is the perfect opportunity to do so.
Since Much Better cards are powered by MasterCard, you will be able to use the Premium Orange Card like any other MasterCard – to make online payments, contactless payments, fund your online casino account and so on.
Besides being a visual representation of the company's passion for convenient and efficient payments, the Premium Orange Card from Much Better comes with a dynamic CVV number. By default, the 3-digit security number on the back of a card renders an excellent security measure.
Much Better has introduced a significant improvement in this aspect by making the number stored on the app, so that each time you log in, the CVV number of your card will change. Since your CVV will be different every time you access the app and use the card, it becomes impossible for scammers to take advantage. In the event of your card getting stolen or lost, you can log in and block it from your mobile app, thus eliminating any possibility of fraud.
About Much Better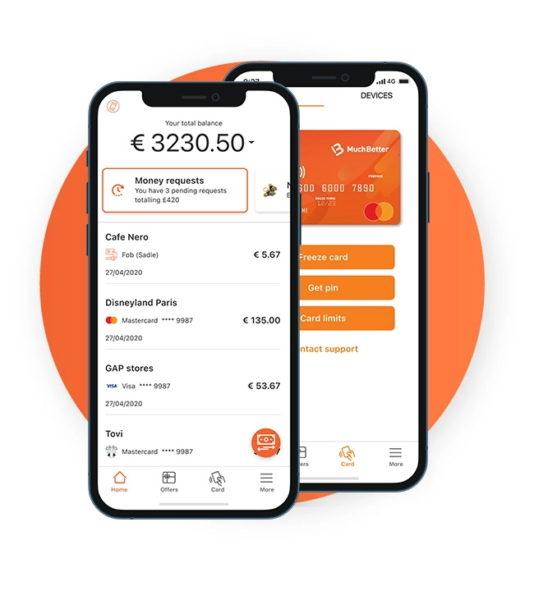 Much Better payment is an online payment service launched in November 2017 by MIR Limited UK Ltd. The team headed by Israel Rosenthal and Jens Bader set out to develop a payment option designed for the global gaming industry which at the same time considers the needs and preferences of the younger generations. What they found was that youngsters like to use payment apps and wallets. That makes it unnecessary to carry a physical wallet or a card and has subsequently provided their targeted clients with everything they need on their smartphones.
One year after the service was launched, the company boasts close to 150,000 active users and more than 120 merchant sites on board. Much Better payment is now available in more than 150 countries, with a payment transaction processed every five seconds. Within the first year, over 10,000 Master Cards were issued along with 40,000+ NFC payment devices.
Though still very young, Much Better payment already boasts a number of enviable rewards. It won the title of the Rising Star by EGaming Review Magazine and Innovation of the Year at the Payments Awards 2018. The company's co-founder, Jens Bader, was named one of the most significant contributors to the payments industry at PayExpo's Payments Power 10 Awards.
Another interesting cooperation was agreed upon in May 2019 when Much Better payment became West Ham United's Official Online & Digital Payments Wallet Partner. To celebrate the new partnership, Much Better offered one lucky fan a chance to watch West Ham on Tour in Shanghai. West Ham believes this partnership will enhance their fans' experiences and is eager to provide Much Better payment with various marketing and experimental opportunities.
Frequently Asked Questions
What is a Much Better withdrawal?
With the Much Better withdrawal option, you can conveniently withdraw money from your gaming account. There aren't any bothersome redirects or passwords to intervene between you and your transaction. With real-time transaction notifications, you can also regulate and monitor your expenditure history.
Can Much Better be considered safe?
MuchBetter offers much attention to the safety of the user accounts. You can also enter the app via a fingerprint as well as ever-changing security codes. In the system, there is a transaction analysis system too that ensures the safe travel of exclusively legal transactions.
What casinos accept Much Better?
Some of the casinos that allow Much Better as an e-payment method are Party Casino, 888 Casino, BetHard, 777 Casino, Ladbrokes, Duelz Casino, and many more. There are quite a few casinos that are popular in the UK as well as in Ireland.
How can I get my account statement / verify my Much Better account with a gaming merchant?
If the verification on your Much Better wallet has already been done; you can petition your Much Better Account Statement from the app itself. Just sign in to your account and then click on the "More" section as well as tap on the "Statement" button to create your own statement. Your statement will be automatically sent to your registered email address.
How to choose the currency of a wallet?
While undergoing the registration process you need to pick the currency of your Much Better wallet which will be applicable to all the transactions going through the wallet.
You would not be able to change the currency of your account instantly on your app although their support team will certainly help you with that.
The support team will help you go through the process of changing your currency and help pick the currency you'd like to change in your wallet. However, ensure that you do not deposit any new payments while the currency exchange process.
Conclusion
Much Better introduces a swift payment option for Irish online casino enthusiasts, enabling instant access to a variety of games. This service offers seamless deposits, from a minimum of €10 to a maximum of €10,000, catering to all player preferences. Available as an app or for PC users, Much Better's streamlined process involves downloading the app, creating an account, and funding the eWallet with real money. Its Premium Orange Card enhances security and convenience. Many renowned casinos, including Party Casino and 888 Casino, accept Much Better. This innovation reflects the ongoing evolution of user-friendly, efficient payment methods in the online gaming industry.