6 Online Horse Racing Apps to Play and Win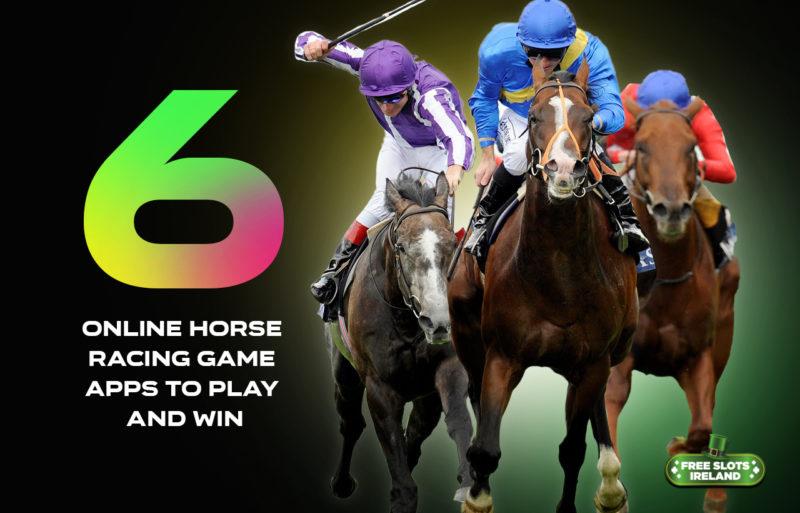 Below mentioned are the 6 most popular horse racing game apps. If you are an Irish punter who loves horses and horse racing then there are a few best games to play online. These games bring your real-life like race tracks and horses to enjoy in your own comfort zone. Many of these games are available at app stores to download on your mobile smartphones be it Android or iOS and play. Few of them are available at Xbox games to play on your PC or any gaming console. Wanna try them then keep reading below for a brief review of these horse racing games and a link to download or play them.
Table of Contents
Horse Racing Game Apps: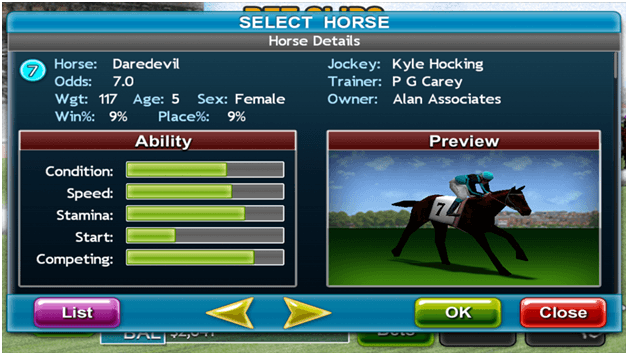 1. Phar Lap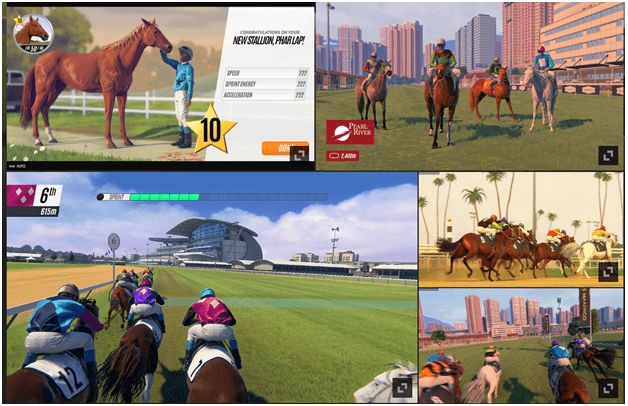 Phar Lap is the game course named after perhaps the greatest racehorse ever to come from Australia, and the game allows you to go as far as breeding your own stable of horses before then challenging your friends to races, which goes some way to providing that race day buzz.
Experience the thrill and thunder of racing with the pride and prestige of building your own stable of champions. Make history and build a brighter future in the Phar Lap horse racing challenge.
In the game, you will find cinematic graphics that showcase realistic horses and capture the action of the race with motion-captured animations. Online racing lets you run in real time-alongside other players

You can do horse breeding to breed champion horses with an in-depth genetic breeding system. Also, place bets alongside your mates and watch the race play out in real-time. Up to 8 players can join and play this game or horse challenge.
Click here to download or buy this game from Playstation that might cost you around $30 USD
Buy at Nintendo if you want where it might cost you $40USD
2. Ari's Arrival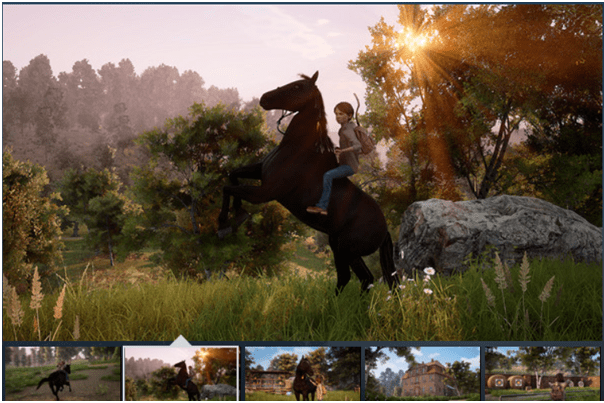 The idea for this game first stemmed from a rather cheesy German film called Westwind (translated from the German, Ostwind) in which a girl befriends a horse and nurtures it despite trying circumstances It was the sort of film aimed at well-to-do guys with a paddock and a few horses of their own but has since become something of a cult movie within the equine community. The riding in the game is particularly true to life, even if some of the scenarios Ari and her horse find themselves in are not, but all in all, it is quite a nice blend of the two games above, even if it is designed with a slightly younger audience in mind
In this game ride through exciting adventures on Windstorm's back. There are 15 main missions with various interesting side-quests and an exciting story around the Kaltenbach estate.
There are several new areas and environments to explore with new gameplay features such as Archery. The Kaltenbach estate and the whole gameworld can be freely explored by walking or riding. With detailed and beautiful graphics there are several new characters that will support you in the game. You can get many unlockable rewards and collectible items during your gameplay.
Click here to get this game on Steam. The game will cost some Euros.
3. Rival Stars Horse Racing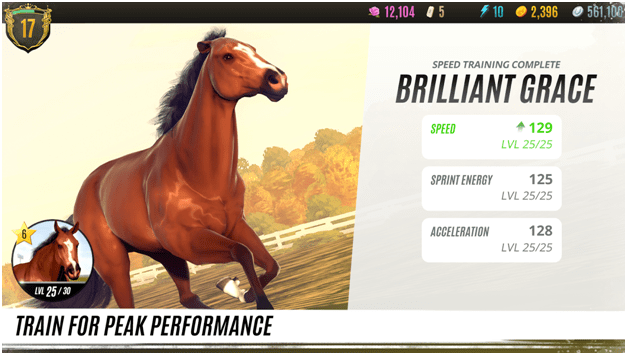 Pikpok's Rival Stars Horse Racing is one of the horse racing game apps simulation having been involved with Phar Lap Horse Racing Challenge, the popular game for Xbox and Playstation.
The focus here is on stable management and breeding and you will like the thoughtfully crafted backstory. The game has plenty going on with selective breeding, buying, and selling of horses as well as the opportunity to develop abilities through training. You have the choice of whether to ride the races yourself or to hire a jockey.
From paddock to winner's circle – race on legendary tracks from all over the world, earn your prestige, and climb the leaderboards. Choose your playstyle and immerse yourself as a breeder, horse trainer, race manager, jockey, and more. You're in charge – manage a homestead and decide when to invest, upgrade facilities, or hire new staff. Your horse racing derby quest starts here, with Rival Stars Horse Racing feel the thrill and thunder through motion-captured animations, cinematic races, and intense race commentary.
Dive into authentic and immersive gameplay that brings the complete horse racing experience to mobile and compete for glory yourself or hire a jockey to ride for you – the choice is yours. Also customize your face, silks, and helmets for a photo finish.
The Star Riding Club subscription lasts for 1 Month and provides you with great daily in-game benefits. This subscription will auto-renew every month and must be canceled at least 24 hours before renewal.

Click here to download now for iPhone
Click here to download now for Android
4. Photo Finish Horse Racing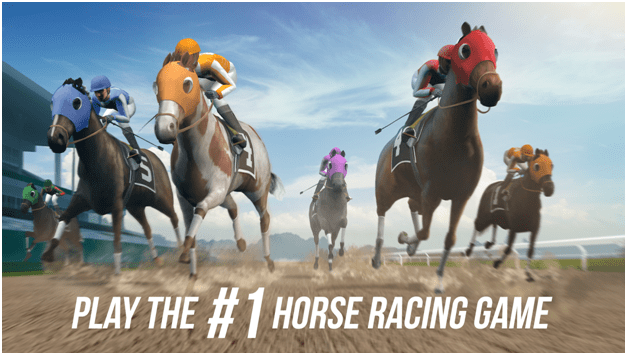 This is the most complete horse racing simulation available as a smartphone app and is officially the highest-rated among the most popular games. The Android version has more than 5 million downloads, with an impressive average rating of 4.8. It scores just a shade lower on iPhone at 4.7.
Develop your stable, try to breed a champion, and race against players from around the world. Hire a jockey or ride yourself and compete in local events. Progress to championship status and take your chance in the Derby. Hire a jockey, train your horse, and compete in a variety of races from a local derby all the way up to winning the quest for the Cup!
Photo Finish Horse Racing is thus the ultimate horse race simulation, featuring lifelike animation, stellar graphics, addictive gameplay, and intense competition. Live the life of a jockey, owner, and spectator in the Sport of Kings! Play a quick race in a spare minute, or battle your way through the major derby to win the Cup! This free game app comes with an app purchase.
Click here to download it now for iPhone
Click here to download now for Google Play
5. Horse Racing Manager 2019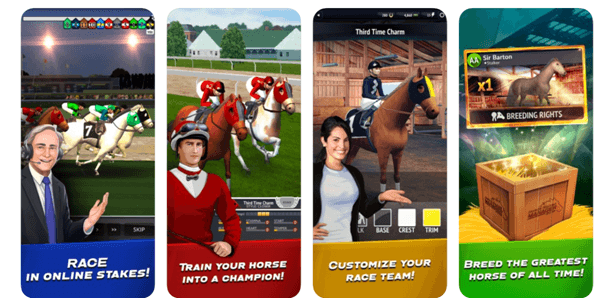 Horse Racing Manager, as the name suggests, is as close to a full version of horse racing simulation as you are likely to find in a mobile app. You have the opportunity to breed a virtual stable of horses, matching those with desirable traits to produce foals that inherit unique skills and special attributes.
Improve and upgrade horses through carefully planned training routines and methods. Maintain peak conditions to ensure optimal performance in live player versus player races.
You compete in the local derby, circuit, or cup to earn rewards and work your way toward the Ultimate Championship. Watch intense and suspenseful races just like the real spectator sport or skip ahead to get back to business. Play through a realistic and immersive calendar of races. Cross the finish line for a realistic photo finish. Stunning 3D visuals make Horse Racing Manager 2019 the best virtual horse racing simulation experience around! This free game app comes with in-app purchases.
Click here to download now for iPhone
Click here to download now for Android
6. Virtual Horse Racing 3D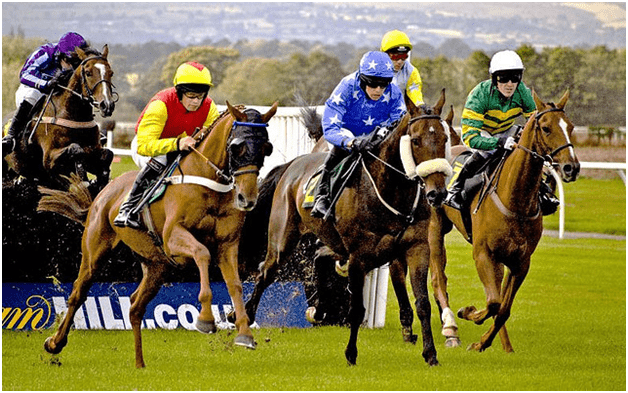 The game has been developed by National Ariyatrakool and has more than 10 million downloads from the Google Play store, with an average rating of 4.2. It scores only 3.4 with iPhone users. With real-time 3D graphics and a virtual 3D sound system is simple to play.
The Straight Bets involve Win/Place/Show. Also, there are up to 8 runners per race. You can preview horses/jockeys before betting.
Virtual Horse Racing 3d is particularly well-named as it more closely resembles virtual horse racing products. The premise here is simply to study the horses and jockeys, make your selections and place your bets. Once your bets are down, you can watch the race unfold just as you might with a wager placed on racing at Portman Park. Once the race is completed and the result determined, your winnings or losses are calculated and your balance updated.
Click here to download now for iPhone
Click here to download now for Android
Finally, remember that these apps are virtual horse racing apps and don't require any real money gambling.
Conclusion
For Irish punters who adore horses and the thrill of horse racing, these six captivating horse racing game apps offer an immersive experience right at your fingertips. From breeding champions in "Phar Lap" to engaging in realistic races in "Ari's Arrival," these apps provide a diverse range of gameplay. "Rival Stars Horse Racing" offers comprehensive stable management, while "Photo Finish Horse Racing" presents lifelike animations and addictive gameplay. "Horse Racing Manager 2019" allows you to build your virtual stable, and "Virtual Horse Racing 3D" offers a simplified yet engaging racing experience. Explore these apps for an exhilarating virtual horse racing adventure.