Lucky Leprechauns Loot Slot game
It is a new entry in the ever-expanding catalogue of video slots based on Irish mythology, Microgaming has done something different with Lucky Leprechaun's Loot by doing away with the traditional cartoon graphics and creating something a bit more visually striking.
Lucky Leprechauns Loot Slot Game
Features
Packed with 3D graphics, this game depicts all the usual suspects from gold coins to wishing wells and there are also 50 fixed paylines for players to match their symbol combinations on. You will find many more ways to win thanks to the presence of substitute wilds and there's also a lucrative free spins bonus that can be replayed or gambled for even greater prizes.
Betting and gameplay – Lucky Leprechauns Loot Slot game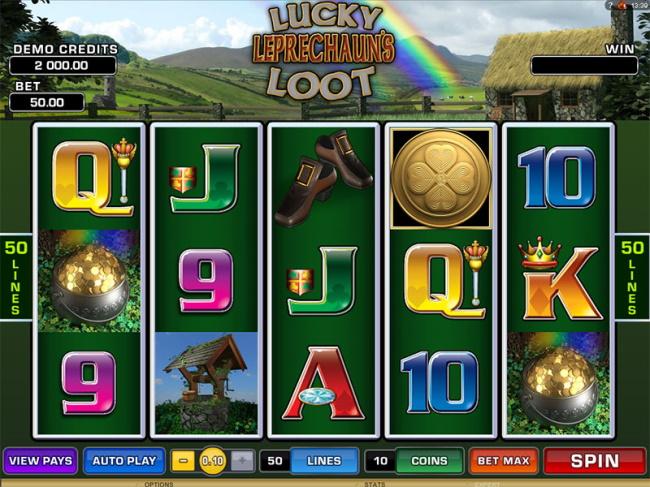 With the 50 paylines in Lucky Leprechauns Loot Slot game's Loot being fixed at all times, initially, you will only need to be concerned about how much to bet on each spin. Bets start at $0.01 per line for a base cost of $0.50 overall, but these can be ramped up to as much as $50 for a huge $2,500 per spin.
However big an investment you choose to make, you will be competing for a maximum regular jackpot of 500x your stake for matching a Lucky Leprechaun symbol on each of the game's five reels, with smaller prizes being awarded for any three-of-a-kind combination. Golden coin symbols, act as substitute wilds and double the value of any winning paylines that they feature in.
In addition to their bet amount, the only other decision you will have to make in Lucky Leprechaun's Loot comes at the end of the bonus round, where you need to choose from three options. You need to choose to collect your winnings there and then, gamble them for a greater multiplier or re-start the feature.
Theme and Symbols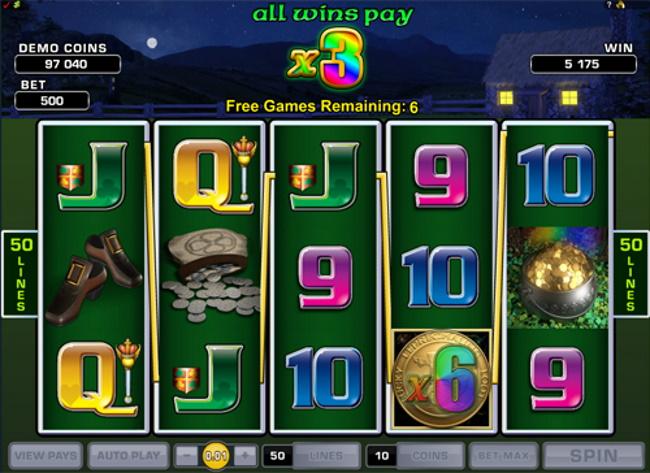 Although the theme of Lucky Leprechaun's Loot is one that has been done time and time again, Microgaming has gone to great lengths to make the slot stand out from the Irish-themed crowd. The visuals are more "realistic" than in similarly-styled slots, with the 3D graphics used for both the background and the symbols really giving the game a unique appearance.
The slot's background features a traditional stone cottage set in a verdant field, with a rainbow disappearing into a mountainous horizon providing players with a taste of authentic Ireland. The symbols, meanwhile, are a mix of classic Ace through 10 playing card symbols and Leprechaun-based iconography, including golden shamrock coins, purses and the titular Leprechaun's pointy shoes.
Graphics and Animation
In terms of sounds and animations, there's nothing that will really blow you away in Lucky Leprechaun's Loot. The background music is a traditional Irish jig that is quirky enough to add some ambience to the gameplay, but the sound effects aren't anything you haven't heard in other video slots before. The animations, meanwhile, are similarly basic and though the winning payline sequences do liven up the game's aesthetic, they don't live up to the promise of its 3D graphics.
Bonuses and Free Spins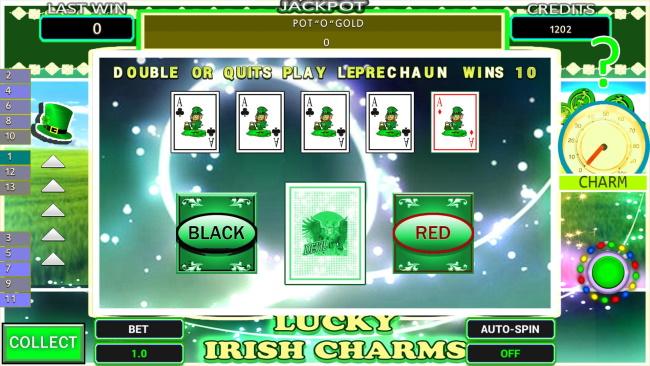 In terms of features, Lucky Leprechaun's Loot offers you just one bonus round – but thankfully it is a good one. Activated whenever three or more Lucky Leprechaun scatter symbols appear anywhere on the gameboard, players will receive 15, 20 or 25 three spins with a 3x prize multiplier.
During free spins, the golden coin symbols continue to double the value of any paylines that they feature in – meaning a total multiplier of 6x is up for grabs at all times – but the real value comes in the form of a gamble feature that is offered to players when their bonus games have been used up.
Here, you can select to simply collect your winnings from the free spins for an instant reward, reset your winnings for the feature to zero and start again or gamble the lot on a random prize multiplier. Though the final option can result in a less-valuable 2x multiplier, if you're really lucky players can also snag an incredible 500x multiplier, which will result in the slot's maximum payouts.
Conclusion:
While the Lucky Leprechauns Loot Slot game is unlikely to make big difference with its traditional Irish theme, Microgaming has at least attempted to do something different within the genre and created a more engaging experience for players.
The slot's single bonus features offer the potential for huge rewards – and though this always comes with a degree of risk, it is quite often worth the gamble.