King Cashalot Review: A Jackpot Fit for a King
A royal jackpot awaits you. Read our review of King Cashalot.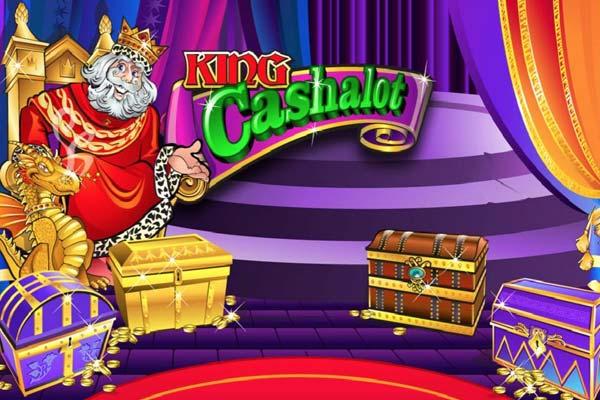 King Cashalot is a five-reel, nine-payline progressive slot game. It's based on the legendary King Arthur and Camelot that takes a humorous look compared to other "serious" medieval age games around. King Cashalot is considered one of the most lucrative slot games since its jackpot increases fast and aggressively to give players great rewards. It might look like a usual jackpot slot game with features like scatter and wild bonus symbols, multipliers to increase your winnings, and enhanced sounds and graphics, but King Cashalot gives you a gentle and funny perspective of medieval themes.
The medieval theme coupled with colourful graphics and superb sounds entices many players. The background music is enough to make you feel that you're playing a slot game in medieval times. You can play with symbols that depict foods that are served at a royal feast. King Cashalot loves to share his kingdom's riches with his subjects, village folk, and knights. Are you ready to be his subject to win this game?
The Gameplay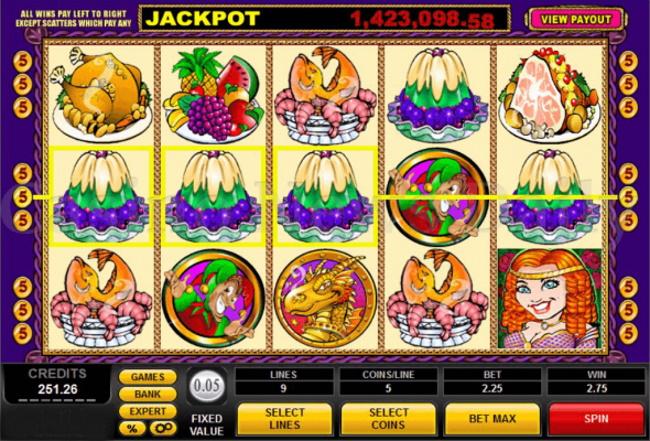 King Cashalot features different medieval-themed symbols. The lower value symbols are fruits, desserts, fish, chicken, and beef. There are four characters that represent the King, Queen, Prince, and Princess. The King is the wild as well; the Court Jester is the scatter symbol. A Golden Dragon symbol triggers the bonus feature. One of the enticing features of this progressive slot is that its main drawcard is it's a generous jackpot game that allows players to increase their winnings quickly and frequently as well.
A small investment of a fixed coin wager of .05 will pave the way to jackpot royalty. There's one way to win the jackpot, and that is to land five of the King wild symbols on payline nine. Review the payline details to check which exact reel the jackpot runs. Usually, it runs from the bottom positions on reels one and two through the centre spot on the middle reel and to the top spots on reels four and five. Always look for wild and scatter symbols, as well as the treasure chest bonus game to increase your winnings.
There are no free spins when you play King Cashalot, but there are a couple of bonus symbols for you to increase your chances of winning. You need to land three golden dragon bonus symbols scattered on two reels, three, and four to trigger this feature. The task is to make one choose from eight treasure chests, then decide if you to keep the prize for yourself. You have two more chances to pick then you get to keep the final pick. Keep in mind that the more paylines you play allows you win.
The Verdict
King Cashalot is a very entertaining game. Most medieval-themed slots are either too dark or action-packed; this game reminds you of a childhood Saturday morning cartoon that makes it enjoyable. The run-of-the-mill approach makes it more exciting coupled with a frequent increase in winning. We recommend these progressive jackpot slots to players who want to win big while enjoying the game.