Cash Splash Slot game is a fantastic progressive slot game powered by Microgaming. You can play both a three reel and five reel version of Cash Splash as you prefer, although it is the 5-reel version that tends to be the most popular thanks to the prize-winning potential it offers.
Table of Contents
Cash Splash Slot Game
Get into your swimming costume and dive right into the Cash Splash, the fantastic slot game powered by Microgaming.
You can play both a three reel and five reel version of Cash Splash. Although it is the 5-reel version that tends to be the most popular thanks to the prize-winning potential it offers.
This Cash Splash Slot game features all of the amazing features – wilds and scatters helping to create that pool of cash that you'll want to leap right into. And then there's the progressive jackpot, which is developing day by day as players from all over the world get involved, and this offers you the chance to win some serious cash.
Splash Dive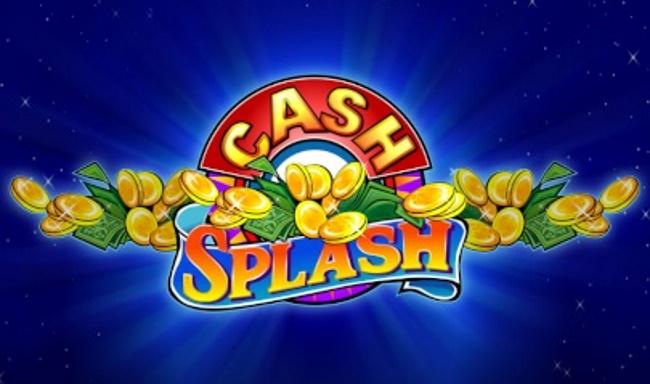 The great thing about Cash Splash is that there are no gimmicks. This is just quality slot gaming that offers simplicity and excitement in equal measure. The gameplay is instantly identifiable – you will have no doubt played slot games like this time and time again in the past, and if you haven't then it will only take a matter of minutes to learn how.
The graphics are neat and clear and crisp and the symbols are colourful and vibrant, so it is always fun to open up Cash Splash on your computer or mobile device. And it's easy to set up and play too: simply select your wager amount using the handy red buttons at the bottom of the screen, click spin and away you go!
This Cash Splash Slot game is the kind of slot game that really appeals to fans of retro titles who love those old school graphics. Even the game's main symbols – Cherries, 7s, BAR – have that vintage feel about them!
This is basic, no-frills slot gaming action… and there's nothing quite like it!
Features, Symbols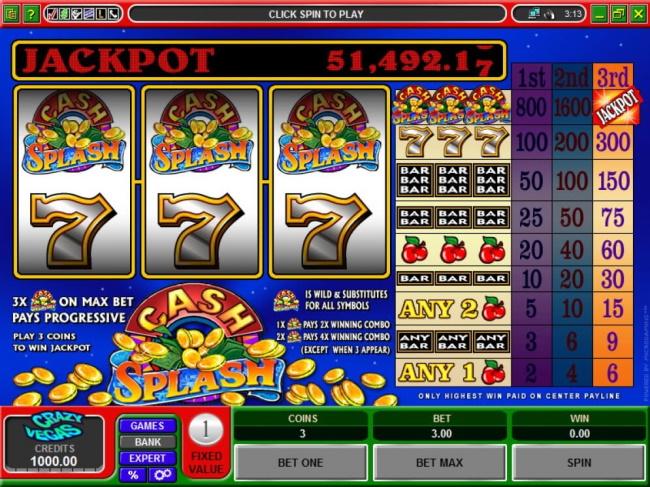 As ever, players are looking to match three or more of the same symbol on a payline to scoop the corresponding prize. It is at their discretion how much they choose to bet, although it goes without saying that the more you bet the bigger the amount you will win. And, crucially, the progressive jackpot prize is only available to those who bet the maximum amount. It is up to the player if they want to make a big splash or just bet at their normal rate.
The 5-reel version of Cash Splash features 15 paylines, so there is plenty of potentials to pick up some wins, and with nine symbols to play with there are multiple opportunities to spin a treble, quadruple or the full quintuple.
And something that is certainly worth knowing is that if the 'Cash Splash' icon appears on the 15th payline – and you have placed the maximum wager on that particular spin – then you will scoop the progressive jackpot prize.
Oh Cherry Baby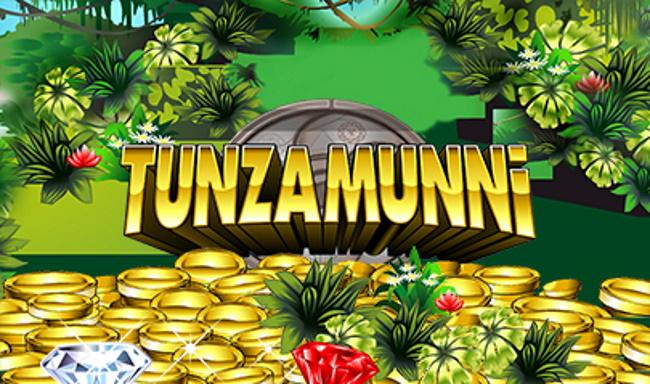 The symbols that makeup Cash Splash are, as mentioned, classic slots. There are Cherries, lucky number 7s and single, double and triple BAR symbols up for grabs, each with its own unique prizes attached to them.
The wild may cause quite a scene if it appears three or more times on adjacent reels. Not only will it substitute for all other symbols on the gameboard to help fill in the gaps of a winning combination. Not only that, but it will also multiply your reward too. So if a single Cash Splash symbol appears in a winning combo the prize is paid out as normal, two will quadruple the prize and all three pay out the full progressive jackpot amount.
The scatter symbol, which is merely the word Scatter, is there to be taken advantage of as well. Three or more of this payout a prize – that's 4x, 50x and 250x for three, four and five respectively – and remember that these don't need to be on a payline; they can appear anywhere on the reels.
Jackpot Prize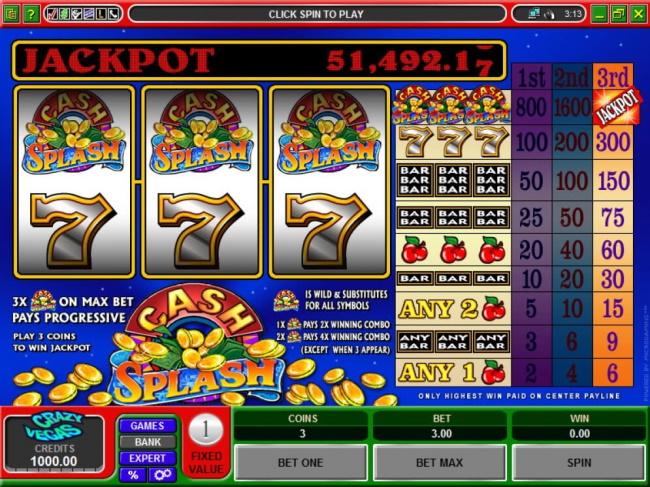 So really there's no reason not to enjoy this hugely fun slot game from Microgaming. It ticks the simplicity box, the fun gameplay box and the huge jackpot prize box, and at the end of the day, there are the key concerns for the vast majority of players.
Sure, the theme is a little inconsistent and the symbols a little old hat, but you're only as old as the slot gamer you feel, right? With an array of ways to win, the ever-increasing progressive prize and the choice of three or five-reel play, isn't it time you got wet and wild with Cash Splash?
Conclusion
Cash Splash Slot game, powered by Microgaming, offers a fantastic and engaging progressive slot experience for both retro enthusiasts and modern players alike. With a choice between a three-reel and five-reel version, the latter is preferred due to its greater winning potential, particularly with the progressive jackpot feature.
The game features straightforward gameplay with classic symbols like Cherries, lucky 7s, and BAR symbols, giving it a nostalgic charm. The wild symbol helps complete winning combinations and offers multiplied rewards, while the scatter symbol provides additional chances to win prizes.
What truly sets Cash Splash apart is the allure of the progressive jackpot, which grows with each player's contribution and can be won by aligning Cash Splash symbols on the 15th payline with a maximum bet. The game's simplicity, entertaining features, and the potential for substantial rewards make it an appealing choice for slot enthusiasts seeking a thrilling gaming experience.