Multiplayer Wheel of Wealth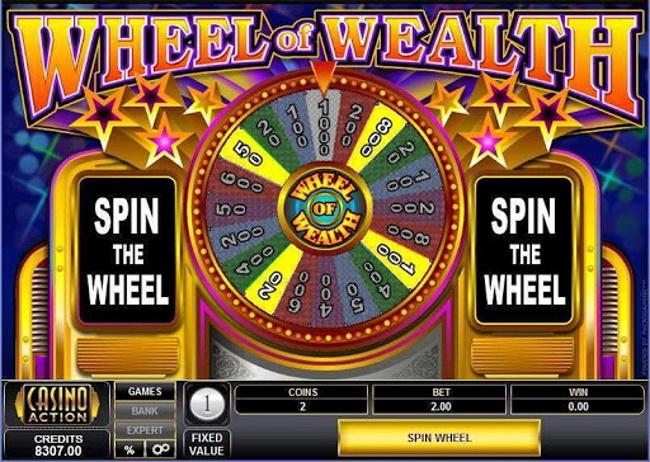 The community slot machine called Wheel of Wealth made its exclusive, worldwide debut in 2013. The all-new, multi-player slot is the first game of its kind to appear on the Internet. As a result, it allows online casino players to chat while spinning the slot and participating in a shared bonus round. Occupying the same game space, allows players to see each other's results in real-time! This makes for a truly shared gaming experience.
Table of Contents
Wheel of Wealth
Paylines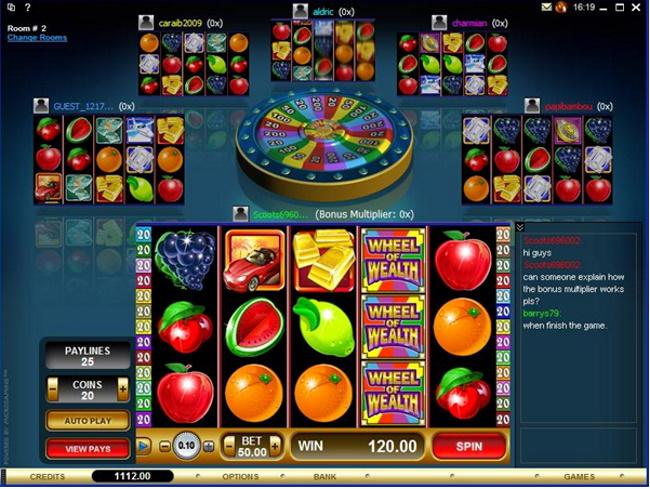 Wheel of Wealth Multiplayer Slots is a multiplayer video game created by Microgaming in 5 reels and 25 paylines format. This community slot machine provides you with the opportunity to get the top award of 10,000 coins. Extra features such as two bonus games and a wild multiplier as well as the opportunity to look at others' progress during bonus features make this game unique and thrilling.
This slot allows the players to chat and look at each other results while playing this absorbing game.
Graphics -Multiplayer Wheel of Wealth
The colourful and vivid graphics of this game Multiplayer Wheel of Wealth presents you with the attributes of tasty and luxurious life. Thus, such sparkling symbols as Wheel of Wealth, Lear Jet, Sports Car, Diamond, Gold Bars, Money, Watermelon, Orange, Lemon, Apple, Grapes, Cherries, Scatter Coin and Bonus invite you into the world of great money and good luck.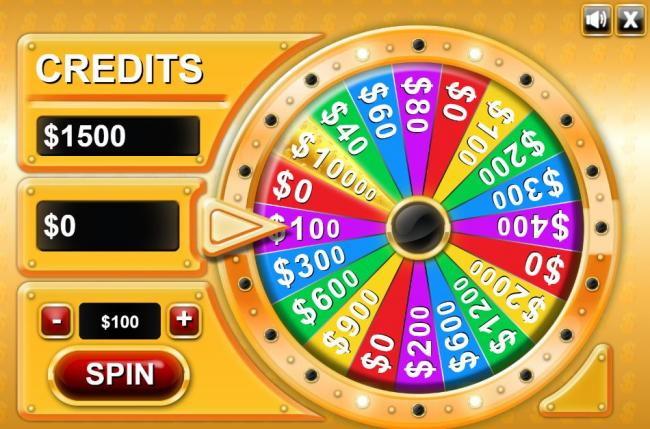 You can choose among such coin sizes as $0.01, $0.02, $0.05, $0.1, $0.2, $0.25, $0.50. Playing this penny slot Multiplayer Wheel of Wealth you can cover all 25 paylines with the minimum bet of $0.25. The maximum bet on this game is 250 coins or $125.
Here are the top jackpots if your bet is 10 coins per line and the coin size is $0.50
•The highest jackpot is 10,000 coins or $50,000 for 5 Wheel of Wealth.
•The second jackpot is 1,000 coins or $5,000 for 4 Wheel of Wealth.
•The third highest jackpot is 750 coins or $3,750 for 5 Lear Jets.
Symbols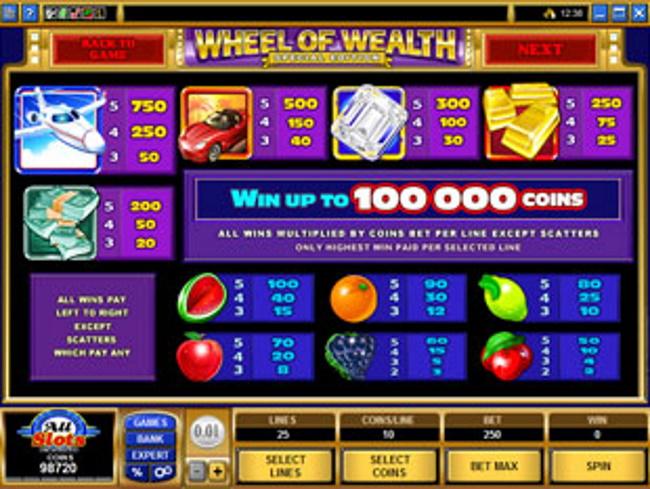 The Wheel of Wealth is the wild symbol. It can substitute any other icon except the scatter and the bonus symbols to produce more winning combinations for you. Moreover, every time it appears during the winning combination your prizes are doubled. Thus, you have the opportunity to get 1,500 coins or $7,500 for 4 Lear Jets with one Wheel of Wealth instead of 750 coins or $3,750 for 5 Lear Jets. The Scatter Coin is the scatter symbol of this game. Get 2, 3, 4 or 5 Scatter Coins on the reels and multiply your total bet by 2, 4, 50 or 200 times accordingly.
So you can win up to $25,000 per spin if bet a maximum of $125. Reel Bonus Game. Get three or four Bonus icons on the reels and activate the Reel Bonus Game. During this bonus feature, you should select one of the Bonus icons appearing on the reels and reveal your prize. You can win up to 2,000 coins or $10,000 or get the Wheel of Wealth Bonus Game.
Bonus Games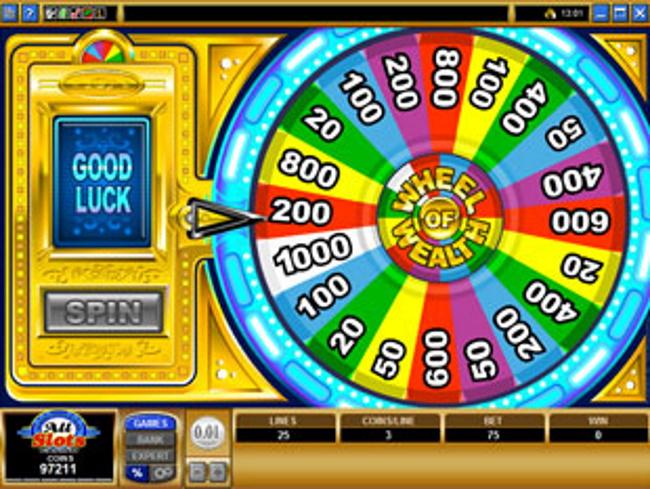 In the Wheel of Wealth bonus game, you can win this bonus feature during Reel Bonus Game or just get 5 Bonus icons during the usual spins and activate this bonus game. This time a colourful Wheel of Wealth consisting of twenty components will be presented to you. Just spin the wheel and find out your random prize. Moreover, the opportunity to watch the wins of other players adds excitement to this feature. In addition, this slot offers quite astonishing awards up to 10,000 coins or $50,000.
You start your Wheel of Wealth experience all over again
Once the bonus round is finished, players return to the base game and start collecting multipliers all over again. This game allows people from all over the world to chat with each other in their native tongue, plus they can meet new friends and share the excitement of the community of slot winners.
Conclusion
The "Wheel of Wealth" is a groundbreaking multiplayer slot game introduced by Microgaming in 2013. This innovative game allows online casino players to interact, chat, and play together in a shared gaming experience. With its vibrant graphics and enticing symbols, such as luxury items and fruits, the game captures the essence of wealth and good fortune.
The slot features 5 reels and 25 paylines, with various betting options to suit different players. The Wheel of Wealth symbol acts as a wild multiplier, enhancing winning combinations and doubling prizes. Scatter symbols trigger multipliers, while bonus icons activate engaging bonus rounds where players can uncover prizes and participate in the Wheel of Wealth bonus game.
The standout feature of the game is its multiplayer aspect, allowing players to witness each other's results and share in the excitement of bonus rounds. With the chance to win substantial rewards and experience a truly communal gaming atmosphere, the "Wheel of Wealth" remains a unique and appealing option for online slot enthusiasts.